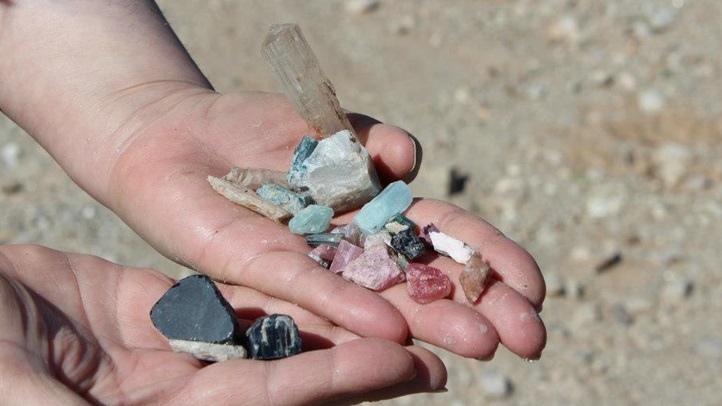 TREASURED COLLECTIONS: Kids are famously apt to collect anything, from dolls to their older brother's CD collection to bits of string. But there's one object pretty much anyone under the age of ten has pocketed and later displayed on a shelf: a rock. The stone's shine mattered not, nor its worth. Rather it was chosen because it was interesting or colorful or it made for good kickin' down a road. (One of the best and simplest of childhood games.) Kids have way of growing up, which means pretty much every adult you know, and you, if you're an adult, at one time was a rock enthusiast. And still may be, of course; gem shows burst to capacity with lookie-loos swinging by to admire the latest nuggets and pebbles. This makes the idea of a gem dig -- an honest-to-tourmaline dig, mind you -- appealing to pretty much every age group. We're all rock people, and have been, from a young age, and brushing away dirt at the Oceanview Mine in Pala on a sunny Saturday is one way to reconnect with that collector's spirit.
OCEANVIEW MINE: The mines are open a couple of days a week and digging starts at 11 a.m. There's an orientation, too, to get you started, and several tips. You'll search for your goodies at tables piled with screens; there's also a rock pile to explore, too. And the gems you might find? The list is shiny: tourmaline, kunzite, morganite, and quartz are a few of the things you might see on your screen as you (gently) shake out that dirt.
COST AND PLACE: An adult entry is $60; a kid's entry (that's a kid 11 and under) is $50. Also, no specific location is given beyond Pala, so you'll need to sign up first. Directions will be sent after your reservation.
PALA FAME: Pala, which is off State Highway 76 and southeast of Temecula, likely rings a bell, and certainly if you love your gems and you love your Southern California history. It's long been an area known for shiny treasures. Oceanview Mines is "the only actively working underground mine" in that particular gem district, it's worth noting. Just in case your other rock-loving friends (that's everyone, basically) as where you got the pretty quartz sitting on your bookshelf.
Copyright FREEL - NBC Local Media