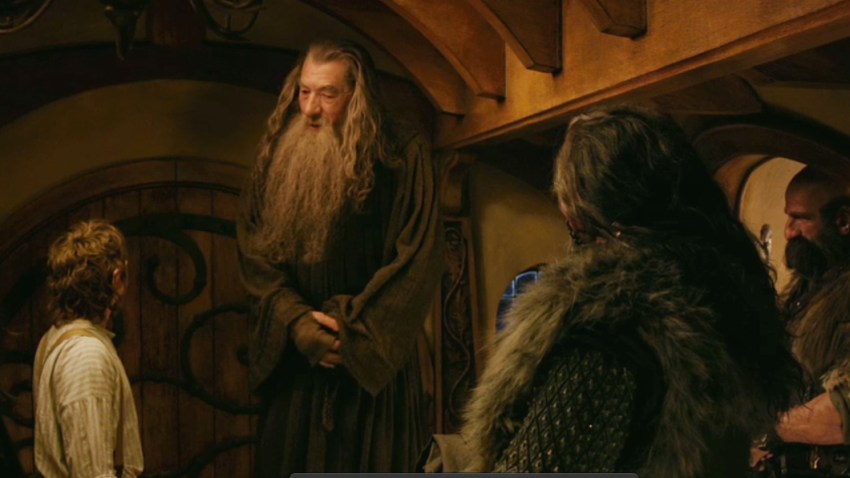 We're at the halfway point for Comic-Con, but the fun isn't slowing down.
Here's some of the biggest events on Saturday, July 14:
"The Hobbit: An Unexpected Journey," "Man of Steel" and "Pacific Rim"
News that the latest actor to inhabit Superman's red underwear - Henry Cavill - will appear today at Warner Bros. upcoming movie preview of "Man of Steel" had fans cheering in anticipation. But it's "The Hobbit" that fanboys and fantasy-freeks are really excited about. Set 60 years before the first "Lord of the Rings" film, the prequel follows Bilbo Baggins (Martin Freeman) as he is swept along with the wizard Gandalf (Ian McKellen) on a quest to reclaim a lost Dwarf kingdom from a fire-breathing dragon. Can't get more Comic-Con geeky than that!
"Revolution"
What would you do without power? Produced by J.J Abrams ("Lost") and directed by Jon Favreau ("Iron Man" films), "Revolution" explores what a post-apocalyptic American landscape may look like. The full pilot (debuting Sept. 17 on NBC) will be screened and then followed with a panel featuring castmembers and behind-the-scenes creators.
Gays in Comics: 25th Year Celebrations!
The comic world's longest running panel gives itself a well-deserved pat on the back in 2012. 25 years ago creator and author Andy Mangels moderated the first panel covering queer comics to an audience of around 600-700 people. "Most of those attending the first year were just curious," says Mangels. Today, the panel draws around 3,000 people each year to discuss stories, characters and issues surrounding the community. And with the recent mainstream success of gay marriage issues of Northstar (Marvel) and "Archie," and the continuing lesbian storyline of DC's "Batwoman" once again the venue should be packed to the rafters.
"Iron Man 3"
Producer Kevin Feige and special guests (fingers crossed for Robert Downey Jr. and Gwyneth Paltrow!) will offer fans a special look at the latest installment of the adventures of industrialist Tony Stark and his crime-fighting alter-ego. Currently filming, the movie was given an extra jolt of energy this year thanks to the box-office busting success of "The Avengers," in which Iron Man played a major role.
A Conversation with Bryan Fuller
The force behind "Pushing Daisies," "Heroes" and "Dead Like Me" will discuss his two most highly anticipated projects: "Mockingbird Lane" - the television reboot of "The Munsters," and "Hannibal" - a look at the early life of psychiatrist-turned-serial-killer Hannibal Lechter coming to NBC.