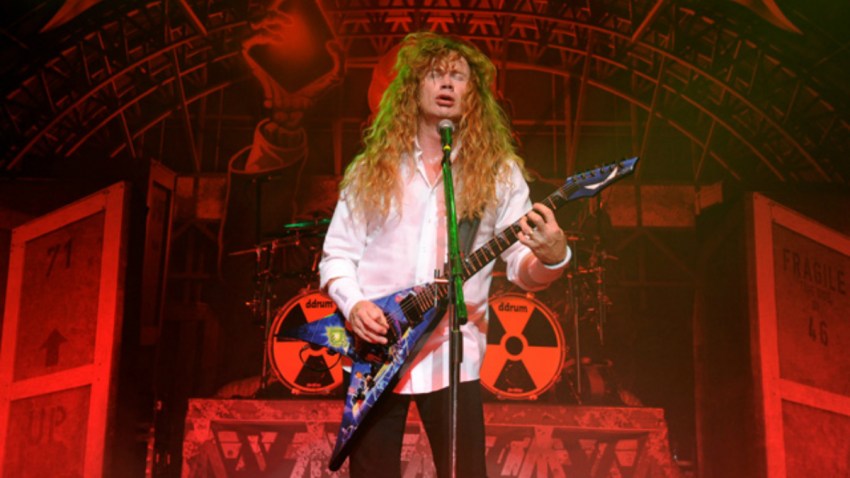 As the Craft Beer Capitol of America, it's no surprise that San Diego breweries are partnering with big-name bands for extra special brews.
Recently, our buds over at Belching Beaver joined forces with hard rock juggernauts Deftones for their Phantom Bride IPA, and Denmark-based Mikkeller (which opened a brewery in Miramar last year) teamed up with punk legends Descendents for Feel This Coffee IPA. Fall Brewing's also been in on the local music scene action by branding one of their flagship brews the Loudspeaker Rye IPA, after 91x's local music radio show of the same name.
So you'd think when it came time for Megadeth frontman (and noted Fallbrook resident) Dave Mustaine to lend his band's name to a beer, he'd just walk down the street and plop down in the nearest brewery to make it happen. Well, you'd be so wrong. No, Mustaine has curiously paired his love of suds with a brewery well outside county lines. Never one to do anything by the book, the outspoken Mustaine eschewed all 131 (and counting) San Diego breweries for Unibroue -- an operation based in Quebec, Canada.
The Unibroue brewery, which got its start in 1993 and was bought by Sapporo in 2006, has always maintained a focus on Belgian-style beers and some of their best known variations include the amber-red ale Maudite ("Damned"), the La Fin du Monde ("The End of the World") Belgian tripel, and the Don de Dieu ("Gift from God") wheat ale.
In October, Mustaine announced he had partnered with Unibroue for the Megadeth-themed beer, A Tout le Monde. Titled after the band's 1994 song of the same name (which is French for "To all the world" or "To everyone"), the music video for the single was famously banned by MTV after the station claimed it was pro-suicide. The chorus of the "Youthanasia" song (which is sung in French) translates to: "To everyone/ To all my friends/ I love you/ I have to leave."
In a 1994 interview, Mustaine explained the lyrics: "It's when people have a loved one that dies and they end on a bad note, you know, they wish they could say something to them. So this is an opportunity for the deceased to say something before they go."
Either way, Unibroue's A Tout le Monde is a Belgian-style dry-hopped golden saison ale that rings in at a relatively light 4.5 percent ABV. It seems like Mustaine is pretty stoked on it, as evidenced by his appearance on the SiriusXM "Trunk Nation" show and his recount of events that led to the beer's creation.
"We started last summer when we headlined the [Festival D'été De] Québec festival [in front of] 80,000 people," Mustaine told Eddie Trunk. "We had pulled up in the middle of the day and went to the hotel with this guy named Jerry Vietz from Unibroue. And we both had a lot of stuff in common and we hit it off right away. I was kind of sampling some of the different beverages that he had. And [I told him], 'I like this. I like this about this one. I like this about that one.' And we made a second round, brought the liquid down to Nashville and tried it again. And I said, 'Okay, so it's getting really close. I like this about this, and I like this about that.' And then I got to taste the final product for the first time on [Oct. 21] in Orlando [Florida]. And it's just been a huge smash. I heard yesterday they sold 240 cases in one day in Tampa. That's just one city in the nation, and they distribute to five continents."
If you are wondering, the beer is also available at various locations right here in town too including Blind Lady Ale House in Normal Heights; Bottlecraft, Berkeley Pizza, and Boulevard Wine & Spirits in North Park; and at various BevMo! locations around San Diego (among other spots). For a map of all the locations, visit Unibroue's website.
To be honest, we're kind of bummed Mustaine didn't make use of any of the 100 million breweries right here at home -- but hey, it's his beer and he can do what he wants with it. But is it too much to ask for a hefty, barrel-aged "In My Darkest Hour" Imperial Stout or a super hoppy "Head Crusher" double IPA though? Beerdos, let's make it happen.

Dustin Lothspeich books The Merrow, plays in Diamond Lakes, and runs the music equipment-worshipping blog Gear and Loathing in San Diego. Follow his updates on Twitter or contact him directly.