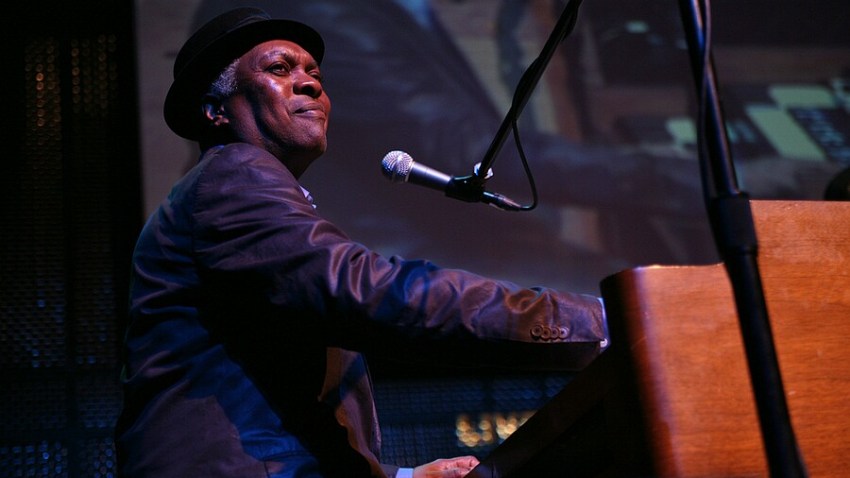 With our perfect year-round weather and all sorts of fun entertainment options at our disposal, San Diegans have no excuse to have the blues -- unless you're heading to Embarcadero Marina Park North on Sept. 26-27, that is!
Yep, it's the return of the annual blues fest that consistently delivers on two excellent missions: Bringing some of the best blues in the biz to San Diego and raising funds for the Jacobs & Cushman San Diego Food Bank.
---
Click here for more information about the San Diego Blues Festival
---
This year's outstanding lineup is headed by Booker T. Jones, who will be performing Sunday night. Amazingly, the Rock & Roll Hall of Famer, who has played with just about everyone, could not recall knowing any musicians from San Diego, but he had in fact played at the Blues Festival back in 2000, which had slipped his mind when we interviewed him by phone on Tuesday while he was in Santa Barbara. He does, however, know his fellow performers from SD Blues Fest, including Marcia Ball, Tommy Castro and Kim Wilson of the Fabulous Thunderbirds.
"I know them very well," Jones tells SoundDiego. "I know them personally from my days in Texas with Willie Nelson… I know Marcia -- I've gone to Marcia's shows, and I think we have performed at a festival before. We have a mutual friend, Angela Strehli from Austin. She and Marcia were blues sisters in a way. They grew up together."
He will have one special guest onstage with him, his son Teddy.
"He will be coming to San Diego with me -- he's 25 years old -- he's been playing three years. He asked for a guitar, and I bought him one. Just a natural. He learned so quickly, and I didn't expect it. My guitar player Vernon Black was one of his teachers… I love the way the bands sounds with him."
What can fans expect: "Green Onions"?
"A lot of MG's -- mostly the songs I wrote. The show's kind of a recap of my [recordings]. Some new, original material as well... It's mixed up. I gratify myself onstage. I even play Beatles songs. I play music I love. I do play my biggest hits, but I don't play them 'cause they're my biggest hits… I still really like the music I'm fortunate [to have created 50 years ago]."
One of the things Jones is looking forward to the most when he plays in San Diego will be offstage during his set.
"When I'm there, that big eclipse is going to be happening during my show. A once-in-many, many years event… That's gonna be special. My wife told me about it last night. It's all over the Internet."
Jones is not daunted by the so-called super-moon lunar eclipse, saying he's used to dark nights onstage anyway, since "I play with my eyes closed a lot of the time."
Joining Jones at the fest this year are Tommy Castro & the Painkillers, Marcia Ball, John Mooney, Lil' Ed & the Blues Imperials, the Paladins, Tomcat Courtney, Bill Magee Blues Band, Kim Wilson with Anson Funderburgh, Nathan James & the Rhythm Scratchers and others.
Aside from the blues, the festival serves as a major fundraiser for the Jacobs & Cushman Food Bank, which distributes food to 330 nonprofit partners, including pantries, soup kitchens, shelters, low-income day care centers, senior centers, churches, schools and others. The annual event has gathered more than 10 tons of canned foods for the bank, and concertgoers are encouraged to either bring cans or cash to donate, if you're so inclined (but hey, why not bring both?).
While we're always up for helping others, we also love some good music. Headliner Booker T. Jones led Booker T & the MGs on the Hammond B3 organ back in the '60s and '70s while the group served as the Stax Records house band and backed Otis Redding, Sam & Dave and Wilson Pickett, among others.
Truth be told, Jones was instrumental in the development of that vintage soul sound we've all come to know and love -- which, by the way, is all the rage in mainstream music nowadays: Alabama Shakes, Mark Ronson, Mayer Hawthorne and the Black Keys are just a few artists that owe a debt of gratitude to that legendary Stax sound.
Also an acclaimed record producer, Jones is credited with producing Bill Withers' "Ain't No Sunshine" and Willie Nelson's "Stardust" albums. He's also the recipient of a Grammy Lifetime Achievement Award -- not too shabby, eh?
According to John Fogerty: "Everyone knows a song by Booker T." And he's right -- come Sunday, Sept. 27, you'll get your chance to hear him in person. With a host of stellar acts and an opportunity to help those in need, the San Diego Blues Festival is a win-win event.
Get out, sing them blues -- and do some good.

Dustin Lothspeich plays in Old Tiger, Diamond Lakes, Chess Wars and Boy King. Follow his updates on Twitter or contact him directly.