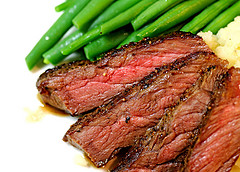 The parent company of the "Black Angus Steakhouse" is the latest corporation to file for bankruptcy.
ARG Enterprises cited declining profits due to economic slowdown as for their reason to filing Thursday. They said sales have fallen 26-percent in the last two years.
"The debtors' restaurants primarily are located in some of the areas hardest hit by the mortgage crisis, causing consumers in those markets to cut back on discretionary spending," Lisa Poulin, the company's chief restructuring officer, said in a declaration filed with the bankruptcy court.
ARG currently operates 69 Black Angus Steakhouse restaurants, including three in San Diego, and employs more than 3,600 people.
It is the latest of several casual-dining style chains to file for protection in the last year, including Bennigan's Steak and Ale restaurants and Buffet Holdings Inc.