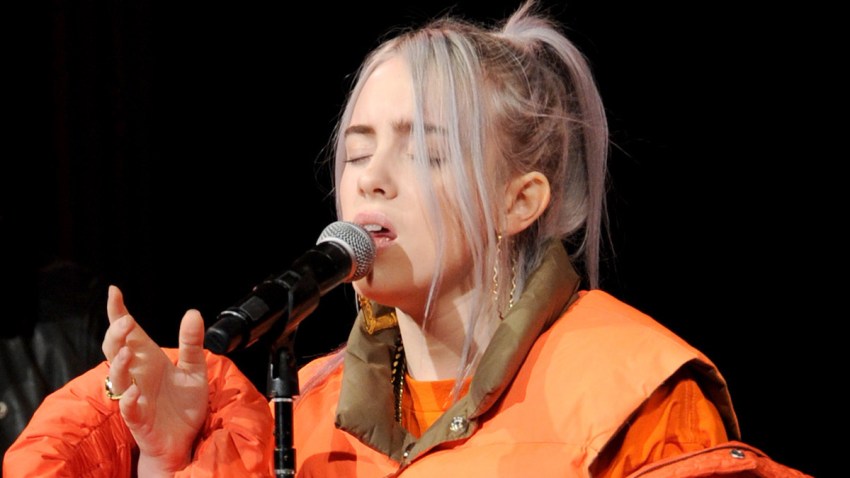 Tonight, SOMA is going to be bursting at the seams with a couple of thousand devoted fans of Billie Eilish. The 16-year-old singer has had a meteoric rise to fame, reaching over 2.5 billion streams worldwide. Um. That's a big deal. In fact, her entire tour sold out long in advance, and resellers are making a fortune. Fortunately, if you didn't snag tickets, you can catch her when she returns for 91x's Wrex the Halls. There are plenty of rad shows to catch tonight, however, including the return of the Helio Sequence to the
Casbah
, This Will Destroy You at Brick by Brick and electronic duo Slander at the Observatory.
Saturday, Nov. 17:
San Diego Wine & Food Festival @ Embarcadero Marina Park North
Billie Eilish @ SOMA (sold out)
The Helio Sequence, Strawberry Mountain @ Casbah
The English Beat, King Schascha @ Belly Up (sold out)
This Will Destroy You, Clarice Jensen @ Brick by Brick
Slander @ Observatory North Park
Blockhead, Yppah, Arms and Sleepers @ Soda Bar
Rockabilly Dance Show with Los Apaches, Jesse & the Rock & Roll Three, the SparkTones @ Ken Club
Neon Beat @ Bar Pink
DJ Dennis Borlek's 55th Birthday Bash @ Whistle Stop (4 p.m.)
'80s vs. '90s Dance Party with DJs Saul Q & Gabe Vega @ Whistle Stop
Tunnel Vision: Queer Club Night with Unique3, Sasha Marie @ Space
Sully, Angelico Co & the Band of Demons @ Belly Up (5 p.m.)
Bump @ Blonde
Erika Davies @ Panama 66
Platinum Comedy Tour featuring Mike Epps, Tony Rock, Sommore, Bruce Bruce, Earthquake @ Valley View Casino Center
P.O.D., Nonpoint, Islander, Bosspoint @ Music Box
Whit Aadland @ Pour House
Moumimatou Camara: DunDun Dance Workshop @ Worldbeat Center
Gregory Page San Diego Album Release @ Lestat's
The Joshua White Trio +1 @ Dizzy's
Alice in Wonderland @ California Center for the Arts, Escondido
Obligerant, Family Tree Analog, New Me @ Black Cat Bar
MC Flow presents Her Highness High Court @ Backdrop (formerly Java Joe's)
Korpiklaani & Arkona: The Wayfarer @ House of Blues
With Confidence, Broadside, Sleep on It, Small Talks @ Voodoo Room, House of Blues
Sophia Alone @ Martini's Above Fourth
Some Kind of Nightmare, Social Spit, Batlords, Midnight Track @ Tower Bar
Rhythm & the Method @ De Oro Mine Co.
Detroit Diesel Power @ Bancroft Bar
Our Hood Market @ Quartyard
Traditional Vera Cruz Folk Music @ Border X Brewing
Ingemar & Snapghost, Shindigs, Wizard Woes, Los Shadows @ San Diego Content Partners
SambaDa Live @ Worldbeat Center
Punk 'n' Grunge 'n' Math Rock 'n' Surf @ Che Café
Jerry Jacobs @ Moonshine Beach
Jason Mizelle @ Moonshine Flats
Stone Horse CD Release Party @ Winston's (5 p.m.)
The Routine, Boostive @ Winston's (10 p.m.)
Joey Harris & the Mentals @ Rosie O'Grady's
Dr. Sketchy's (Anti) Art Scool San Diego @ The Merrow (3 p.m.)
The Inciters, Los Hooligans, the Nightengayles @ The Merrow
Strictly Business with DJs Edroc & KanyeAsada @ The Office
Cassie B Project @ 710 Beach Club
DJ Qenoe @ U-31
Los Fabulocos, the Sleepwalkers @ Tio Leo's
The Reflectors @ Humphreys Backstage Live (5 p.m.)
Rising Star @ Humphreys Backstage Live (9 p.m.)
Leaving Austin @ Ramona Mainstage
BK Lounge with DHs Billie Knight, Tone Capone, Dub-B @ El Dorado
Zimmer @ Bang Bang
John Disweed @ Float, Hard Rock Hotel
The Farmers, Rosa's Cantina @ Navajo Live
Bamboozle @ Fluxx
Overdrive Five Year Anniversary @ Spin
Fat Kisses from Mazzy Food Blanket Drive @ Kava Lounge
Rockstar Saturdays @ Henry's
Rosemary Bystrak is the publicist for the Casbah and writes about the San Diego music scene, events and general musings about life in San Diego on San Diego: Dialed In. Follow her updates on Twitter or contact her directly.