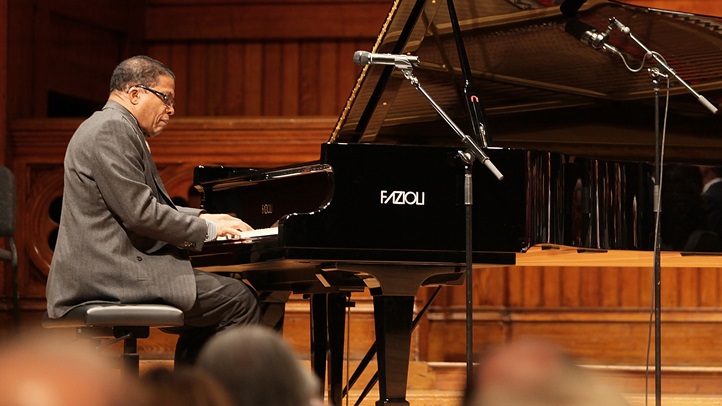 Robert Bush is not a man of few words.

The prolific jazz writer routinely turns in some of the most sublimely written pieces on the San Diego jazz scene for SoundDiego, San Diego CityBeat, San Diego Reader, All About Jazz and Just Jazz Guitar Magazine. Bottom line: when Bush writes, readers listen.
Bass lines don't merely go for a walk -- instead he'll describe them as having "a violent undercurrent, from strummed triplets to windmill slaps at the strings that bordered on 'enhanced interrogation techniques.'" Drums don't just snap and pound along but rather attack with a bite "as lethal as a viper's strike." With each piece, he has a way of transporting readers to another place while bringing the music he's experiencing along for the ride; a rare talent indeed.

Which is why Friday's Chick Corea/Herbie Hancock show at Copley Symphony Hall is such a must-see event. Claudia Russell, program director at KSDS Jazz88, will be moderating a pre-concert prelude featuring Bush and U-T San Diego's pop-music critic, George Varga, at 7 p.m. where they will discuss Corea and Hancock's influence on several generations of pianists.

"Since 1960, Chick Corea and Herbie Hancock have virtually changed the shape of jazz music through many twists and turns," Bush said. "Both of them forged their identities through the prism of work with Miles Davis, and each of them came to define the post-Davis 'jazz rock fusion' era that followed. Each of them pioneered the use of electric and electronic instruments, they both explored Latin music, and they both kept connected to mainstream jazz, as well as classically oriented chamber music."
The Friday show has been sold out for months now, and who better to speak about it than Bush and Varga.
"Both George and I happened to be at the last Herbie/Chick duet concert back in 1978, and we have a lifetime of listening closely to their works ever since," Bush said. "This will definitely be the largest forum for me to discuss a jazz-related theme. It's a great honor for me to be invited to share the stage with Mr. Varga, who I have been reading for years, and with Claudia, who I have been listening to for years."
Even though he's been listening to jazz since the age of 17, Bush admits that he hasn't really been at the whole writing gig all that long, even though in many circles, he's considered to be the preeminent jazz writer in San Diego.
"I had been on that journey into the heart of [jazz] for more than 30 years before I ever started writing about it," he explained. "That came about out of necessity. I would much rather have had the opportunity to read about the music I was into -- but there was a paucity of information out there. So many great things were happening in San Diego that weren't being written about, so five years ago, I started trying to reverse that situation."
Be sure to show up early to the Chick Corea/Herbie Hancock show at Copley Symphony Hall on Friday, March 20 to catch the pre-concert prelude featuring Robert Bush, George Varga and Claudia Russell at 7 p.m.