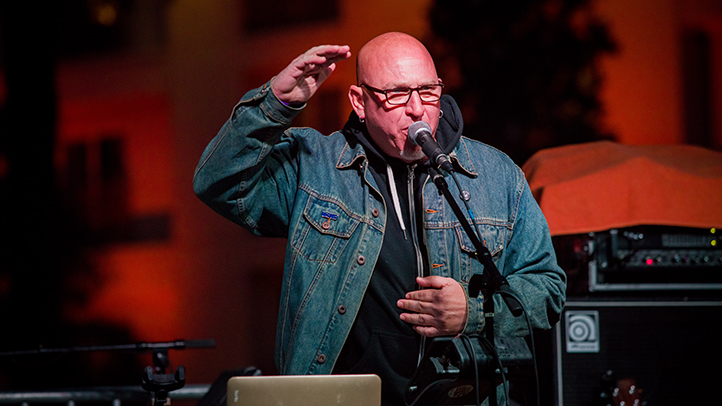 We are so proud of Tim Pyles and his Loudspeaker crew. The show featuring all local music has been running for 30 years, and all year long they've hosted shows and events to celebrate, with their final hurrah of 2018 happening tonight at the
Casbah
, and best of all, the event is free. What better way to spend the day before New Year's Eve than by not spending money on cover? Of course they've put together a great lineup and many hosts of past and present will be in attendance with a live broadcast. For those of you with lots of Christmas funds just waiting to be spent, John Legend plays the Civic Theatre. The
Belly Up
hosts the first of two sold out nights with Michael Franti, La Beat Cantina play Soda Bar and OMFG! have their second night at Pechanga Arena.
Sunday, Dec. 30:
91X Loudspeaker 30 presents the Great Electric Quest, the Bassics, the Petty Saints @ Casbah (free)
John Legend @ San Diego Civic Theatre
Michael Franti & Spearhead, Victoria Canal @ Belly Up (sold out)
La Beat Cantina, Exoskeleton Delusion @ Soda Bar
OMFG! featuring Illesium, Boombox Cartel, BonnieXClyde, Dabin, Luca Lush, Said the Sky, Saymyname @ Pechanga Arena
An Evening with the Garners @ Sycamore Den
Lorraine Castellanos @ Panama 66
X, Los Lobos @ Observatory North Park
Sublime With Rome, Pacific Dub @ House of Blues
The Steely Damned 2 @ Music Box
Rat Sabbath with DJ Ratty @ Bar Pink
Chad & Rosie @ Crossroads, House of Blues (free)
Kwanzaa Celebration @ World Beat Center
Creature Culture, Rinds, 4thNCedar, Subspecies, Okay Whatever @ Che Cafe
Keep It on the DL @ Martini's Above Fourth
Blue Jean Simmons @ Winston's (5 p.m.)
The Playground with DJ Heather Hardcore @ The Merrow
Tony P @ Tin Roof
Reggae Sunday @ U-31
Uptown Top Ranking with Tribe of Kings @ The Office
Evan Diamond & the Library @ Navajo Live
Jason Brown @ Humphreys Backstage Live (7 p.m.)
Boombox Cartel @ Spin
Sunday Is for the Girls @ El Dorado
Rosemary Bystrak is the publicist for the Casbah and writes about the San Diego music scene, events and general musings about life in San Diego on San Diego: Dialed In. Follow her updates on Twitter or contact her directly.