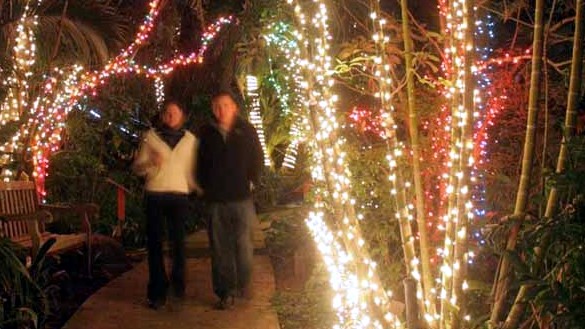 THE FESTIVE FRONDS: We can say with some confidence that greenery, of some sort, is a part of most people's holiday season. Yes, we're referring to traditional trees, of course, and wreaths, and all the fir bits that line the mantel or crowd along a porch or patio. But other evergreens come into play, and the fruits of the season, too (pumpkins fade out, a bit, after Thanksgiving, but cranberries pop up soon after). The long and the short and the middle of it is this: It isn't Noel without nature. And while we happily cart fronds and ferns and firs into our homes around the beginning of December, it is less common for the great outdoors to take on the frippery and glow of the holidays.
THERE ARE EXCEPTIONS... however, and one of the sparkliest in all of Southern California is Garden of Lights at the San Diego Botanic Garden in Encinitas. Garden staffers wind and twirl and string up over 100,000 lights, which means that many of the native plants, plants you might have admired a dozen times, will take on a festive, evening-sparkle appearance. Adding to the Christmassy doings is the Poinsettia Garden. Oh, Poinsettias. We'd love to display you all year long, but you are so associated with the start of winter. That's a good thing, of course; other plants must be envious of your perfect brand.
AND ON THE NON-PLANT FRONT... there shall be carolers and mariachis and wagon rides and "snow," in quotes, on select nights. But happening every night of the multi-week run? Santa visits, of course. Because Mr. Claus knows what we all know: Nature's beauty enhances the twinkliest season. And an evening out in nature, enjoying roasted marshmallows and songs and lots and lots of lights, is sweet indeed.
Worth The Trip
Our daily look at deals and getaways
Garden of Lights debuts on Saturday, Dec. 7. It runs over select nights through Monday, Dec. 23.
Copyright FREEL - NBC Local Media