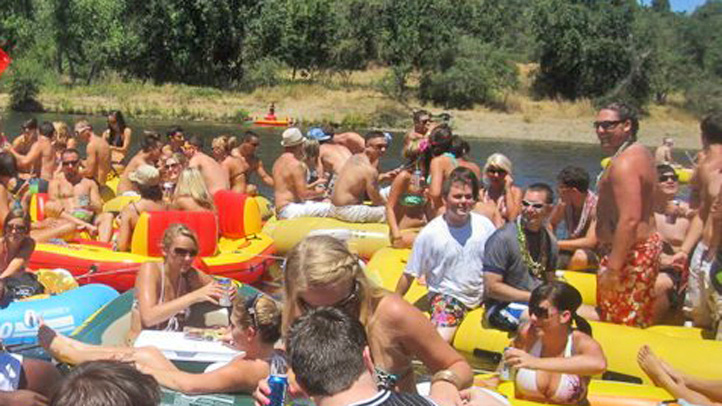 With a turnout of more than 300 rafts last year, the Rafting Gone Wild 2011 event hopes to reach 1,000 rafts this July.

Summer Fun
From 9:30 am to 5:30 pm on Sunday, July 17 the annual college event Rafting Gone Wild 2011 will once again take place in Sacramento, Calif. on the American River. This 21 and older event includes mud wrestling, cliff jumping, music, and hundreds of college students getting wet and wild.

Rafting Precautions
This year the American River has been reported to have strong currents and cold temperatures. The water depth is also known to change frequently and participants will be rafting at their own risk.

Individuals looking for fights will be removed from the event. "We are not liable for any deaths, injuries, or loss of property that may occur on this rafting trip and are not responsible for your decisions" the event's Disclaimer reads.

Mark the Date
According to the event's official Facebook page, 5,743 people said they will attend. The event page encourages people to invite their friends from all college campuses, and strives to have a fun and safe experience.

Rafts are available for rent at the American River Raft Rental for $12, but people are welcome to bring your own rafts as well. Rafters will meet at 9:30 a.m. on July 17 at the the American River Raft Rental on 11257 South Bridge St. in Rancho Cordova, east of Sacramento.