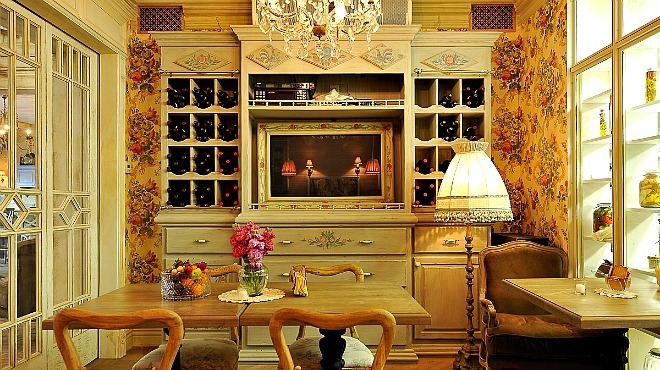 EARLY BIRD SPECIAL: Motivated karaoke singers can find an open stage in San Diego almost any night of the week. However, it's not as easy to find a location that offers something beyond the typical, dark bar scene. Serious singers will want to plan ahead to make a trip to Mari Vanna in West Hollywood where karaoke takes on a kitschier setting: Grandma's boudoir.

DUST RUFFLED: The only west-coast location of this restaurant's international franchise, the recently opened Los Angeles Mari Vanna offers comforting Russian cuisine in a Granny-esque setting. Filled with floral decor and delicate finishes, when the kitchen closes on Wednesday nights it becomes an unusually charming karaoke lounge with an intimate 20-seat limit. Divas and rockstars with reservations can belt out their favorite cover songs while admiring antiques and sipping on a selection of 18 house-infused flavored vodkas. Wine is also available for less adventurous imbibers. Food is not available during karaoke, so you may want to make a whole trip out of it and get there early for dinner. The restaurant serves hearty Russian fare such as Borsch and Pelmeni, but also carries a surprising number of vegan and vegetarian options.

RUSH IN: Karaoke starts at 10 p.m. and is offered free on Wednesday nights from Sept. 4 to Dec. 18, so don't dally. While the restaurant is still working on their website, you can call them for more information at (323) 655-1975. In the meantime, warm up those vocal chords and practice saying cheers in Russian.