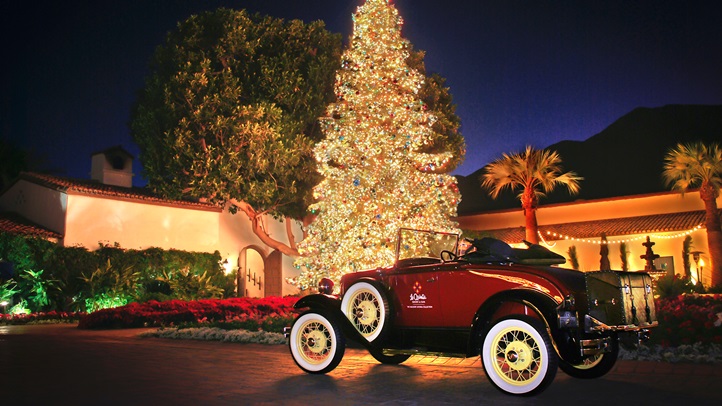 EVERY TIME A BELL RINGS: This isn't a quiz, nor a trick question, but rather a general, Hollywood-flavored conversation starter: Where are movies written? A lot of us picture a screenwriter sweating it out in his ocean-close flat or perhaps an old-timey coffee shop. But a few screenplays find their starts, or middles, or ends, or all of the above, inside hotels. It makes sense after all, given that writers do travel, for vacation or to visit other film sets, and there must be a way for them to pass time back in the hotel room. If inspirations strikes, then zing! A movie is born at a hotel. That is exactly what happened several decades back, in the desert, when one of the most famous movies, and the most famous of hotels, dovetailed into a delightful Christmas classic. Though "classic" hardly seems like a strong enough word for "It's a Wonderful Life," nor icon for its creator, Frank Capra.
THE "WONDERFUL" WRITER-DIRECTOR... was a longtime fan of La Quinta Resort & Club, and he wrote a number of works in one of the casitas (including the Jimmy Stewart-Donna Reed favorite). Not only can you request the Frank Capra -- it books up in advance, just so you know -- but you can have a little Capraesque fun at the historic hotel come the holidays. La Quinta offers a "Chestnuts & Capra" stay-over and dine package every December, and it is rife with Bedford-Falls-y cuteness.
LIKE? Roasted chestnuts to enjoy -- they wouldn't be in the package name otherwise -- and cocktails for two. Make that cocktails named after the film's characters, so, yes indeedy, there is a George Bailey. Also, the resort is going to play the movie large, on the Fiesta Wall, every Friday night (it'll be silent, and lend background feel). Nope, your stay won't be in the Capra casita, but call your "Wonderful" holiday visit a good chance to check it out for a future stay, at least the exterior. There's a plaque outside the San Anselmo Casita detailing the writing of "It's a Wonderful Life," in fact, so look for that. And ponder how the snowiest of sweet cinematic treats was actually written in typically toasty, desert-marvelous La Quinta. Movie magic!
Copyright FREEL - NBC Local Media