TGI Weekend! Calling all superheroes! San Diego Comic-Con is back, ready to transform the Gaslamp into a pop-culture paradise filled with costumed fans. If dressing up (without the tights) is more your style, you'll want to be in the sea of big hats at Del Mar Racing's opening week. There's also an opportunity to nosh on pizza and sip on beers in Point Loma, watch movies on an open rooftop and more. So, Get up. Get out. Play!
Thursday, July 19
San Diego Comic-Con 2018
9:30 a.m. to 7 p.m. (Thursday through Sunday), San Diego Convention Center
The largest pop-culture event in the country will bring thousands of costumed guests from around the world -- and "universe" -- to San Diego. What started as a small convention in 1970, with about 100 guests celebrating the comic arts, has grown to become one of the largest celebrations of not only comics but movies, television and more. The event has grown so large, it has spilled into the Gaslamp Quarter, where dozens of production studios will be offering immersive experiences to guests, even those without a ticket to the main event. Check out our guide of things to do without a badge here for more. And, if you are attending San Diego Comic-Con this year, may the force be with you.
Del Mar's Opening Day
Del Mar Racing
11:30 a.m. (through September 3), Del Mar Racetracks
It's time for big hats and bright colors -- Del Mar Racing season is upon us. Gates at the Del Mar Racetrack open at 11:30 a.m. with a first post time of 2 p.m. most days during this year's summer racing season, which runs from July 18 to September 3 "where the turf meets the surf." This season, the tracks are hosting plenty of special events to coincide with the races, like a day filled with Burgers and Brew, a Gourmet Food Truck Festival, and a Craft Beer Festival. Check out the full schedule of events at Del Mar Racing here. The races' Summer Concert Series returns this year with a lineup that includes Matisyahu, Aloe Blacc and Nathaniel Rateliff & the Night Sweats. The concerts are free with an admission ticket to the races, which start at $5.
Paramore
7 p.m., Mattress Firm Amphitheatre
More than a year after the release of their fifth studio album, "After Laughter," The punk rock group, Paramore is taking that album on the road and making a stop in San Diego along the way. The band's "After Laughter Summer Tour"" rolls through Chula Vista's Mattress Firm Amphitheatre for one night only. Opening for the group is Foster the People, the band behind the hit "Pumped up Kicks." Tickets to catch both Paramore and Foster the People in concert start at $22.
The Old Globe Presents Summer Shakespeare 2018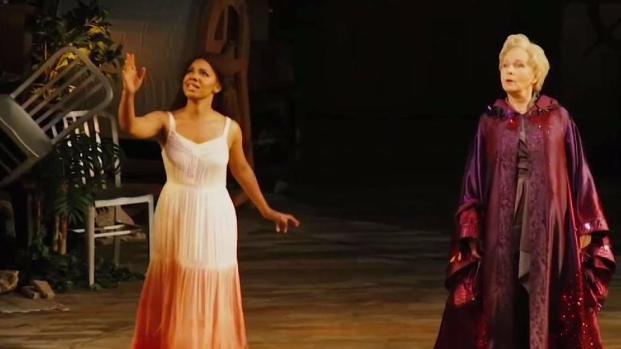 'Disney's Newsies'
8 p.m. (through August 4), Moonlight Amphitheatre (Vista)
Bring a picnic and enjoy a play under the stars on a warm summer night at the outdoor Moonlight Amphitheatre in North County's Brengle Terrace Park. Next up for the theatre's seasonal offerings is "Disney's Newsies," a musical retelling of the 1899 Newsboy strike, when a group of delivery boys challenged some of the newspaper industry's biggest owners of the time. The talent on stage is accompanied by a live full pit orchestra behind, or rather, below the scenes. The theatre's lawn seats, which start at $17, are perfect for a group who wants to bring their own charcuterie and mingle before the show. A lawn chair is provided with an admission ticket. Stadium-style seats are also available starting at $35. Newsies runs through August 4 and then, the Moonlight Amphitheatre will present "The Hunchback of Notre Dame."
Nighttime Zoo at the San Diego Zoo
9 a.m. to 8 p.m. (through September 3), San Diego Zoo
The San Diego Zoo comes to life at night during the summer. Upbeat music will course through the park and entertainers, like twirling acrobats and stilt-walkers, will hold special evening performances for Nighttime Zoo. Keepers will share stories about the animals they care for and there will be special animal encounters for guests. Nighttime Zoo runs through Sept. 3 and is included with a general admission ticket.
Friday, July 20
Food Truck Fridays
4 to 8:30 p.m., Balboa Park
Delectable treats will once again flood historic Balboa Park every Friday night this summer for the popular Food Truck Fridays series. A lineup of about a dozen food trucks will rotate each week through September 28 at Plaza de Panama ready to feed hungry guests as a variety of live music, like Mariachi and orchestral sounds, waft through the air. Some of the dining possibilities include Bosnian Grill, Monster Crafts, Pierogi Truck, Super Q and Yo Yo Bento, Beachin' Boba, Devil Dogs BBQ, Sushi Uno and more. Visitors are invited to bring lawn chairs and blankets to sit in front of the Botanical Building as they eat, or enjoy craft beer, wine and cocktails inside nearby restaurants. Booths will be set up with activities for kids and Balboa Park will introduce a "living room" area filled with giant lawn games. Surrounding museums will extend hours to accommodate guests and the San Diego Museum of Art will offer $5 admission after 5 p.m.
Salsa Under the Stars
6 p.m. to 9 p.m., The Headquarters at Seaport
Hit the courtyard at The Headquarters at Seaport for this Friday night salsa dancing session under the stars. Manny Cepeda and his orchestra will provide the toe-tapping tunes; no partner or experience necessary to join this fun, free event.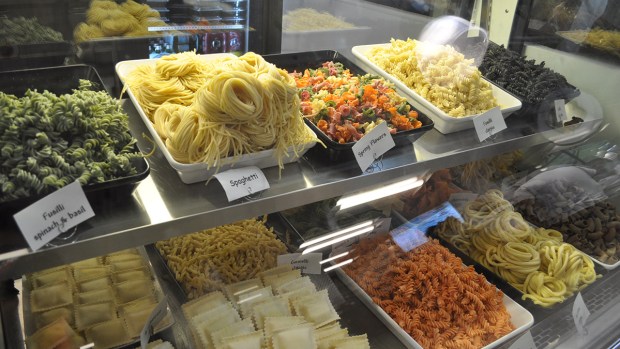 What's Cooking Now at Liberty Public Market
El Cajon's Dinner and a Concert Series
6 to 8 p.m., Prescott Promenade
The El Cajon Business Association is again hosting its summer-time, weekly Dinner and a Concert Series. The idea is for visitors to enjoy dinner at one of El Cajon's many participating restaurants, like Main Tap Tavern and the Palms Restaurant, and then stroll to Prescott Promenade for a free concert in the park. Guests can turn in their dinner receipts for a chance to win a Taylor-brand guitar when a big raffle is held in October, at the end of the Dinner and a Concert Series season.
Sunset Luaus on the Bay
6 to 9 p.m. (through August 31), Catamaran Resort Hotel and Spa
Take in a Polynesian Luau experience without traveling to a tropical shore this summer. The Catamaran Resort Hotel & Spa hosts a traditional luau at their hotel adjacent to Mission Bay on Tuesdays & Fridays through August 31. Guests will be adorned with a lei before being treated to Mai Tais and an all-you-can-eat buffet filled with Polynesian-inspired dishes, like a Spicy Bay Shrimp and Grilled Pineapple Salad, a Guava Chicken dish with grilled pineapple and shredded coconut and a Lakua Roast Pig, just to name a few. During dinner, island music and torch dances will make you feel like you've traveled to Hawaii, Tonga, or another island paradise. Come as early as 3:30 p.m. to make your own lei on the hotel's patio. Tickets cost $72 for adults and $32 for children 5 to 12.
Clear the Shelters: Save the Date
Brad Paisley
7:30 p.m., Mattress Firm Amphitheatre
Singer-songwriter Brad Paisley is bringing a bit of the countryside to San Diego. The Grammy-award winning country music star will perform at Chula Vista's Mattress Firm Amphitheatre for one night only on Friday. Tickets to the concert start at $18.
Rooftop Cinema Club: 'Pulp Fiction'
7:30 p.m. (Thursday through Saturday), Manchester Grand Hyatt
Enjoy a screening of some of your favorite movies while a picturesque sunset over San Diego Bay peeks over the screen. The UK-based Rooftop Cinema Club's first San Diego location takes guests to the roof of the Manchester Grand Hyatt for a unique film-viewing experience. This Friday, Rooftop Cinema Club is screening the 1994 Quentin Tarantino hit, "Pulp Fiction," starring John Travolta, Samuel L. Jackson and Uma Thurman. The outdoor movie theatre has showings every day of the week except Monday and Tuesday. Tickets start at $17 and include a deck chair and access to the terrace an hour early for sunset photos.
New Female-Led Distillery Opens in East Village
Saturday, July 21
Over the Line Tournament
7:30 a.m. (Saturday and Sunday), Fiesta Island
San Diego's summer tradition, the Over the Line Tournament, returns to Fiesta Island for a day filled with wacky costumes and outrageous fun. The game is similar to baseball except each matchup lasts three or four innings and no one has to run the bases; the goal is to hit the ball "over the line." The tournament is an all-day event -- games will run until the sun sets on both days, and then it will all pick up again next weekend. For more information on what's allowed and what isn't and how to get to and from the free event, click here.
Little Italy Mercato
8 a.m. to 2 p.m., Little Italy
Every Saturday, more than 200 tents line the streets of Little Italy, spanning five blocks and showcasing an array of farm fresh produce, meats, flowers and artisan craft goods from local vendors. The Mercato has moved back to its original location along W. Date Street from Front Street to Kettner Boulevard. Grab a crepe as you stroll, or sit in the Piazza Famiglia while enjoying music from local artists. This has been a neighborhood tradition for years and has become one of the biggest farmers markets in San Diego.
Insect and Ladybug Festival
9 a.m. to 5 p.m., San Diego Botanic Garden
Thousands of critters are taking over the San Diego Botanic Garden for an event that teaches young ones and adults alike about the insect world. Live insects, lizards, snakes and ladybugs will be on display to give guests a close-up look at the fascinating creatures as bug experts answer any questions that arise. The event is free with a paid admission ticket to the San Diego Botanic Garden, which costs $18 for adults and $10 for kids 3 to 18.
South Bay Salsa Festival
12 to 7 p.m., J Street Marina
Celebrate Latin culture at the South Bay Salsa Festival that promises non-stop Salsa dancing and festive Latin sounds. For the third year in a row this 21-and-up festival will take over the J Street Marina with Latin cuisine vendors, cultural art activities and more. Tickets can be purchased at the event for $25. While you're there, be sure to say "hi" to the NBC 7/Telemundo 20 team!
Summer Movies in the Park 2018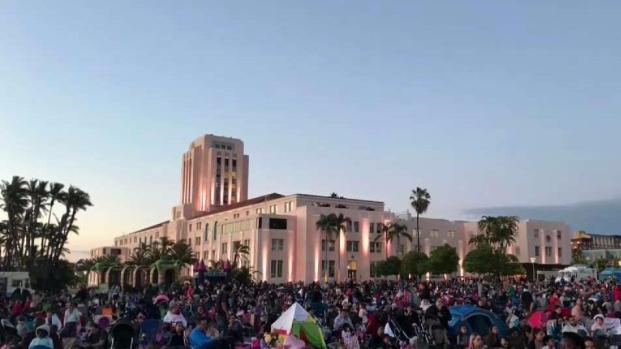 San Diego Pizza and Beerfest
7 to 10 p.m., Liberty Station
Pizza and beer — it's practically a match made in heaven, something the organizers of San Diego Pizza and Beerfest know all too well. This festival will give guests the opportunity to sample a selection of more than 100 craft beers while noshing on slices of tasty 'za from 15 local restaurants. Tickets to the festival start at $35 and pizza slices will cost about $3 to $5 a piece. There will also be two stages for live performances that will fill the air with music as the beerfest continues into the evening.
'The Tempest'
8 p.m. (through July 22), The Old Globe
To kick off the 2018 Shakespeare Festival in San Diego, The Old Globe presents "The Tempest," the playwright's tale of a mother who has been living on a deserted island for a dozen years with her daughter and exacting revenge on her enemies using dark magic. The Tempest is being staged at the Lowell Davies Festival outdoor theatre through July 12. Tickets start at $30.
The Story Behind the Cardiff Kook
Sunday, July 22
Summer Movies in the Park
Times Vary, Locations Vary
Across the county this summer, cities are taking part in movie screenings at their local outdoor parks. Almost every day of the week, San Diegans can find a different free outdoor movie screening thanks to the county-wide initiative. The full calendar of screenings for the summer can be found here. Bring a picnic, chairs and a blanket to enjoy the movie of your choice typically starting at sunset.

Wonderspaces: With Creative License
10 a.m. to 10 p.m., B Street Pier (San Diego)
A unique type of art gallery has moved into an inconspicuous building on the waterfront. It's the second year the traveling art exhibit called Wonderspaces has stopped in San Diego. This time, Wonderspaces has curated 15 installations from different artists for an immersive experience that takes guests inside the art. With a $24 ticket ($14 for children over three) guests will experience a short virtual reality thriller, walk through thousands of light points, leave their mark on the art, and more as they wander through the rooms of wonder. Tickets for July just became available and guests will need to reserve a spot in advance to attend.
Images: Wonderspaces in San Diego
Sunday Organ Concert
2 p.m. to 3 p.m., Spreckels Organ Pavilion at Balboa Park
Enjoy a free, hour-long organ concert Sunday at Balboa Park's famed Spreckels Organ Pavilion. At the keys, the audience will find Raul Prieto Ramirez, the city's newest San Diego Civic Organist and Artistic Director of the Spreckels Organ Society. Prieto Ramirez hails from Spain and, as he told NBC 7, hopes to keep the program interesting – from Bach to Queen – at the historic Spreckels Organ.
Liberty Station Concerts
5 to 7:30 p.m., Liberty Station
Once a month through the summer, Liberty Station is hosting a free outdoor concert from local musicians on their grassy North Promenade (2848 Dewey Road). Headlining this month's event is Earl Thomas, a Grammy-award nominated rock 'n' roll and r&b musician who has covered popular tracks by Tom Jones, Etta James and more. Rebecca Jade and the Cold Fact will be this week's opening act. Jade's sound is described as beach city soul. Bring a blanket and a picnic and enjoy this live outdoor concert.
Raul Prieto Ramirez on the Spreckels Organ Pipes
Dr. Seuss's 'The Lorax'
7 p.m., The Old Globe
The Old Globe's talented cast and crew brings to life Dr. Seuss's "The Lorax," the story of-of a small, fuzzy creature, The Lorax, who decides to speak up for the voiceless -- all the trees in his Truffula Forest. Tickets to the colorful and upbeat performance on the Donald and Darlene Shiley Stage, which runs through August 12, start at $30 for children and $40 for adults.

Free or Cheap Things to Do in San Diego
Times and locations vary

Free or Cheap Things to Do in San Diego
Looking to save some cash, but still enjoy the city? In San Diego, there are still plenty of activities to enjoy for free or on the cheap. Go for a hike at Torrey Pines State Park or Cowles Mountain, stroll Balboa Park, try a new craft brewery, admire the murals of Chicano Park or read a book at a downtown park. Get out there and explore America's Finest City.