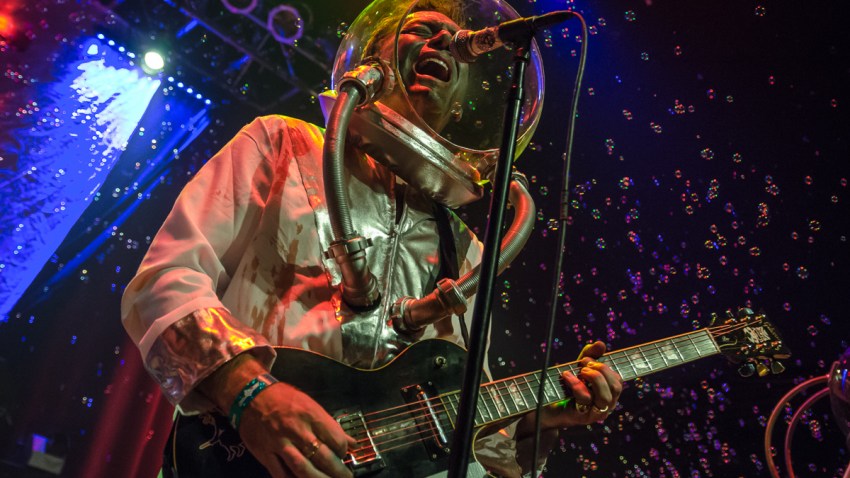 As someone who actively counts down the days until Oct. 31 throughout the entire year, the greatest holiday on the calendar just got even better: On Monday, hometown icons Rocket From the Crypt announced a seven-band mini-fest at House of Blues on Friday, Oct. 25, that'll serve as quite a hefty kick-off to your weeklong Halloween festivities.
The just-announced show is the band's return to a much-celebrated, on-again-off-again tradition of throwing huge hometown Halloween bashes. Aside from RFTC, the night promises performances by Ceremony (who just played the Irenic; see our photos from the show here), LA Witch, Death Valley Girls, El Vez, Alvino & the Dwells, and Slaughter Boys.
The Casbah, 91x, Citi and Live Nation are all offering pre-sale ticket options beginning Wednesday, July 31, at 10 a.m. (Citi's begins Tuesday) while the general public can snag 'em starting Friday, Aug. 2, at 10 a.m. (all times local). Tickets are $30 in advance or $35 on the day of the show -- don't wait though, it'll sell out. Also, attendees must be at least 18 years old.
The Scene
Food. Fun. Lifestyle. Features. All in America's Finest City.
As if the music lineup wasn't enough to get you into costume downtown, free tattoos will also be doled out by the Italian ink artist known as Crap Man (who also designed the show's rad flyer)! According to a particularly moving post on Crap Man's Instagram account, his involvement in the show was sought after by "Swami" John Reis himself.
The artist wrote (in part): "I've been a huge fan of Rocket From the Crypt since the early '90s, when they started, and I've been collecting their records and worshipping their music from years, since I first listen[ed] to them and got blown away by their sound of pure genius rock'n'roll powerforce ... My first tattoo ever is the RFTC logo, and now, 25 years later, I'm going to San Diego California, to do tattoos at their halloween show! Can you believe this? Me doing what I like most (tattoos), in the town I like most (San Diego CA), with the band I like the most. Invited by them."
Read his full post here. It's awesome.
For more information and to stay up to date on everything happening on Oct. 25, visit the show's Facebook event.