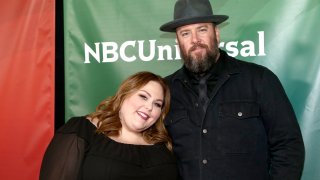 Their fate was first revealed on the NBC show's season five finale, but now that the split is actually starting to play out, Chrissy Metz and Chris Sullivan are just as emotional as the viewers who've faithfully tuned in every week for the past six years.
It would be wise to stock up on tissues ahead of the March 22 episode, which Metz co-wrote.
She teased what's to come during E! News Daily Pop, explaining that while Kate and Toby are continuing to navigate their marriage despite the fact that he's relocated to San Francisco -- where she'll visit him in the upcoming episode -- "We're starting to see the unraveling of their relationship."
"This is one of the hardest episodes that I've ever shot," Metz continued. "There were a couple scenes where I was like, 'Chris, I'm, like, physically ill.' And I think it was just the beginning of the end, of course of the series, but the beginning of the end of their relationship too."
While that's not exactly comforting to hear, both Metz and Sullivan told E! News that Kate and Toby's ending is one that couples unfortunately face every day. But how often are those breakups depicted on television?
"It's such an important part of relationships to talk about," Sullivan said. "It doesn't get talked about a lot and it doesn't get handled very delicately a lot, and only [creator] Dan Fogelman and our writing staff can take the end of a marriage and still address it with compassion and love."
He continued, "We spent six years loving each other, so it's a bummer to go out like this. But it's also an honor to address this as well as our writing staff is."
Plus, there's no one to be mad at. As Metz put it, fans can see themselves "in both Kate and Toby."
"It's right down the middle," Sullivan said, echoing her sentiment. "We talk about it, we go back and forth all the time about whose 'fault' this is. And it is no one's fault. And it is everyone's fault. Everyone plays their part in a relationship and everyone makes their mistakes and everyone tries. Or they don't."
In addition to being co-written by Metz, the March 21 episode of "This Is Us" is also special for Sullivan, as it will feature "Messiah Moon," a song released on his debut album under the stage name Joseph the Spouse.
"We were playing shows before the pandemic," Sullivan explained, "and that song on the record is much different, but at the show we did the stripped-down piano version. And Dan Fogelman was there and he's like, 'You know, that song would be good for the show.'"
The recorded track wasn't nearly as acoustic, but Sullivan ended up producing a similar version for Fogelman. "He texted me like two weeks ago," Sullivan said, "and he's like, 'We're going to put it in the show.'"
"This Is Us" airs Tuesdays at 9 p.m. on NBC. "Messiah Moon" and Joseph the Spouse's debut album, Six Feet from Under, are out now.
(E! and NBC are both part of the NBCUniversal family.)
Copyright E! Online