Despite the rainy weather this weekend, there are still plenty of ways to enjoy America's Finest City. From the big top of the circus and exciting local sporting events, to dining at new restaurants, it's time for another fun weekend. Make the most of it.
Thursday, Jan. 19
BarkHappy Winter Trivia and Tacos Pawty
6 p.m., Mission Brewery
It's a night filled with tacos, trivia and pups! What more could you ask for? Don't miss out on this adorable and fun fundraiser to benefit The Barking Lot. The organization will bring adoptable and foster dogs to the event for those looking for their best friend. Come test your knowledge at trivia, munch on tacos and spend time with man's best friend. Plus, enter to win in a raffle with prizes like a $100 gift certificate to Paws 4 Shots. The trivia winner will receive a tour and tasting for 10 people to Mission Brewery. Tickets are $15 and include free doggy treats.
Free or Cheap Things to Do in San Diego
Times and locations vary

Free or Cheap Things to Do in San Diego
Is your wallet hurting from the holidays? In San Diego, there are still plenty of activities to enjoy for free or on the cheap. Go for a hike at Torrey Pines State Park or Cowles Mountain, stroll Balboa Park, try a new craft brewery, admire the murals of Chicano Park or read a book at a downtown park. Get out there and explore America's Finest City.
Circus Vargas
7:30 p.m., Del Mar Fairgrounds
The big top will go up Thursday at the Del Mar Fairgrounds for the run of Circus Vargas' newest show, "Steam Cirque," inspired by the worlds of steampunk and science-fiction. Circus Vargas organizers say the rain won't damper the debut -- the show will go on. Tickets to opening night range from $22 to $72; parking at the venue is $13. Arrive 45 minutes before show time and the kids can partake in an interactive pre-show where they can practice hands-on circus skills like juggling and balancing alongside the pros. This show continues in Del Mar through Jan. 30; after that, Circus Vargas will make its way to Mission Bay Park and Westfield Plaza Bonita in National City in February.
San Diego Restaurant Week 2017
Through Jan. 22, Locations Vary
San Diego Restaurant Week continues, running through Sunday (Jan. 22), so don't miss your chance to try a bite at a new, local eatery. The semi-annual event features prix-fixe menus at more than 180 restaurants spanning various communities across San Diego County. Some eateries offer lunch and dinner options, so price points vary. This is a great way to try a new restaurant without breaking the bank, and start crossing some places off your local dining bucket list.
Counterpoint Art Show: Closing Party
6 p.m. to 9 p.m., The Lafayette Hotel, Swim Club & Bungalows
The Lafayette Hotel will host this closing party Friday night in honor of "Counterpoint," a joint exhibition by artists Christina Ilene Thomas and Chris Smith. The bash includes live music, food, drinks and a raffle. Admission is free; a portion of proceeds from sales of goodies at the party will benefit the Veterans Village of San Diego.
Friday, Jan. 20
Caffeine Crawl 2017
1 p.m., InterAmerican Coffee in Downtown San Diego
Caffeine addicts, this one is for you! Don't miss the 4th annual Caffeine Crawl, where participants will get the chance to take a guided tour (and taste some samples!) from coffee spots across San Diego. Over 25 local roasteries and cafes will participate. Tickets start at $28 and a the crawl offers a variety of tours from Friday to Sunday across the County.
Hops on the Harbor
7 p.m., Flagship Cruises and Events
Set sail with one of San Diego's local breweries as you enjoy sweeping views of the San Diego bay. The dinner cruise features brews from Finest Made Ales with a gourmet menu during a two-and-a-half hour cruise. In addition, there will also be music and dancing. Tickets start at $40.70.
San Diego Gulls Vs. San Jose Barracudas
7 p.m., Valley View Casino Center
The San Diego Gulls take on the San Jose Barracudas at the Valley View Casino Center this week. Tickets start at $19 per person.
San Diego Opera's Taste of the Opera
6:30 p.m., The Curious Fork
If you love the beautiful and enticing stories told at the San Diego Opera as much as you love tasty meals, this event is for you. Join the San Diego Opera's Director of Education and Community Engagement, Nicolas Reveles, as he shares his music and knowledge of the opera "Falstaff." The Curious Fork Chef Katherine Afendoules-Emmenegger will help prepare dishes themed based on the opera. This is not a cooking class, according to the San Diego Opera. Tickets start at $49.
Cards Against Humanity Tournament
6:45 p.m. Duck Foot Brewing Company
It's the perfect game night for people with a bit of a twisted sense of humor. Play a party favorite – Cards Against Humanity – as you sip on some tasty brews (including the small batch release of Coffee IPA). Each team can consist of two to eight players, and ten teams will play in total starting with a check-in at 6:45 p.m. To sign up, email lexxi@duckfootbeer.com in advance. And good news for the winner: whoever wins will take home a $100 Duck Foot Brewing gift cards. Attending is free.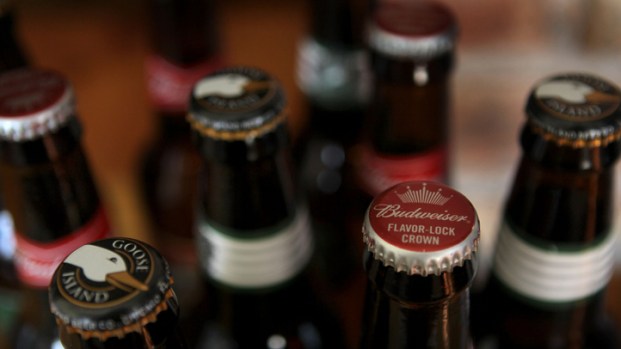 San Diego's Top Breweries
Salsa Under the Stars
6 p.m. to 9 p.m., The Headquarters at Seaport
Put on your dancing shoes and head over to the courtyard at The Headquarters at Seaport for another fun, free installment of Salsa Under the Stars. Manny Cepeda and his orchestra will provide the tunes while you boogie – no partner or experience necessary.
A Jim Morrison Celebration ft. Wild Child
8 p.m., House of Blues
This 21+ concert at the House of Blues in downtown San Diego will feature Wild Child, an Italian tribute band of four musicians dedicated to recreating the psychedelic sounds of Jim Morrison and The Doors. The show includes theatrics, scenic effects, lights and costumes. Tickets start at $22.50.
Saturday, Jan. 21
San Diego Sockers vs. Soles de Sonora
7:05 p.m., Valley View Casino Center
Come out and support San Diego's 14-time indoor soccer champions at their game against Soles de Sonora. General admission tickets start at $11.
Carlsbad Cinema Series: Trumbo
1:30 p.m., Carlsbad City Library
Come enjoy this 2015 release which tells the story of the Hollywood 10, writers who were blacklisted during the communist watch hunts in the mid 1900s. The film will include an introduction and post-show discussion by Brandom Cesmat, who teaches humanities at California State University San Marcos. Seating is limited and first-come, first-serve. The event is free.
San Diego Women's March
10 a.m., Civic Center Plaza
San Diegans will march this Saturday in solidarity with the Women's March on Washington. Women, men and children of all backgrounds and political affiliations will come together for the peaceful march in response to the negative climate around women in the recent election. The march will start at the Civic Center Plaza Downtown.
Hike Daley Ranch
7 a.m., Daley Ranch in Escondido
Weather permitting, get up early this Saturday morning and take in some beautiful nature in Escondido. Naturalist William Sherrard will take participants on a peaceful walk through trails near the ranch. The walk is five to seven miles round trip and is estimated to take two and a half to three hours. The guided hike is free.
Sunday, Jan. 22
Salk Institute's Salk Science and Music Series
4 p.m., Conrad Prebys Auditorium
Science and music may not be a natural combination, but the Salk Institute brings together a beautiful blend of the two for their annual Science and Music Series. Renowned musician Amit Peled and Noreen Polera join Kenta Asahina, assistant professor of molecular neurobiology. Admission costs $55 for individual tickets, or $250 for the full series.
Battle of the Breweries
4 p.m., Tin Roof in Downtown San Diego
Come support your favorite local brewery at this fun event in Downtown San Diego. This week, Guest Breweries Latitude 33, Benchmark, Acoustic Ales and Iron Fist will face off. Sample four of their local brews and vote on your vote in the Battle of the Brews. The winner will then be featured at Tin Roof as the next rotating handle.
Published at 8:19 AM PST on Dec 13, 2016 | Updated 3 hours ago