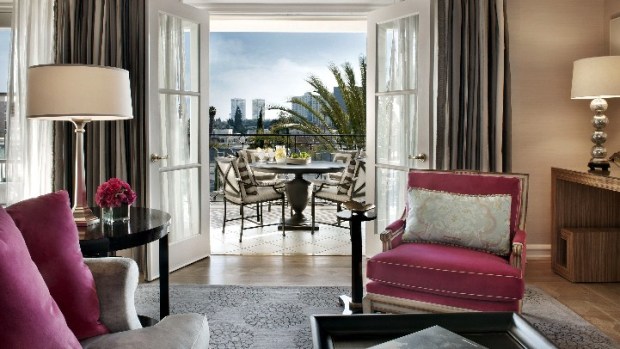 The Peninsula
The Peninsula Beverly Hills just debuted a quartet of tony, hue-filled new suites.
PENINSULA POSH: When you're a Peninsula hotel, and you're nestled up against the famous Golden Triangle in the famous municipality of Beverly Hills, you don't go about renovating your rooms, and a foursome of suites, in some haphazard, half-hearted fashion. You spend a year doing so, and you spend some cash, too, and you make the rooms just about as elegant and tony as all get-out. And? You give each of your four suites its own subtle and sophisticated theme via the right placement of color and pop. The hotel just pulled the curtain back on a quartet of new high-end suites and revealed that a cool million was spent on the renovation of each room. (Or, we should say, rooms, since the suites are out-sized, multi-roomed, and one even comes with its own terrace.)
THE HUES: Blue, White, Green, and Pink are in the suites' monikers, but The Peninsula didn't simply swap out various pillows to give each location its distinctive name. The Green Suite is "East Meets West," says the hotel -- think Chinoiserie and antique textiles -- while the Blue Suite boasts hand-blown Murano lamps. (Designer Nancy Corzine, we should note, oversaw the Blue Suite's coming-together.) That terrace we mentioned is off the White Suite. Aren't you always lounging on some secluded terrace in your Beverly Hills fantasy? While decked out in some over-the-top Pucci print? And you're drinking a lemonade-based cocktail with a red paper umbrella? Maybe that's just us, but probably not. Because it is a really good fantasy. Feel free to call it your own, if you like.