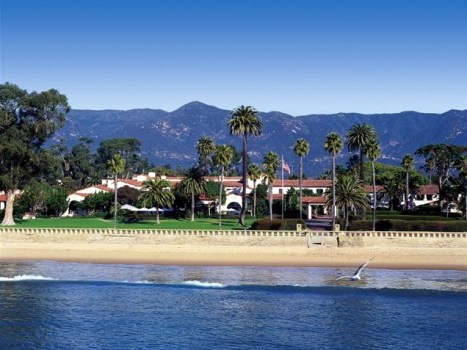 Four Seasons
The Four Seasons Biltmore in Santa Barbara is throwing a British Biltmore Celebration during April 2011.
COCKTAILS TO TEAS: It's still several weeks before the wedding of Prince William and Kate Middleton -- the nuptials are scheduled for April 29, 2011, but you've surely looked at a magazine cover, or web site, and know that -- and various London-based businesses have already begun to herald the big day, in various ways. But the celebrations are soon to kick off here; leading the pack is the Four Seasons The Biltmore in Santa Barbara, which has decreed April to be British Biltmore Celebration.
SIP A MIDDLETINI: Yep, there is a martini called the Middletini on the menu, as well as cocktails recalling fictional Brit favorites James Bond and AbFabian Edina Monsoon. Teas, traditional fish and chips, Beatles on heavy rotation, and other UK touchstones will be part of the big doings. If you're treating an Anglophile you know to a getaway, or you yourself are Brit-mad, book on a Sunday, when the lawn bowling is going down on the Monte Vista Lawn. Look smart.