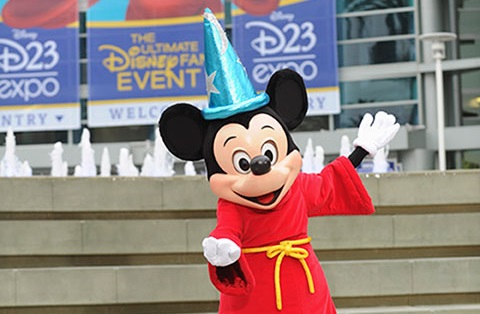 D23 Expo
D23 Expo, the every-other-year Disney fan extravaganza, returns to the Anaheim Convention Center Aug. 14-16, 2015. Tickets went on sale on Thursday, Aug. 14.
BUILDING ANTICIPATION: If there was every a group that was especially gifted at stoking a certain amount of anticipation before something delightful happened, it has to be the Disney Imagineers. They're the innovators who dream up the rides and attractions inside the theme parks, yes, and they also create the "line experience." Meaning the video, the art, the funny stuff you see while wending through the queue? It's all about revving up the guest's ultimate excitement for the roller coaster or spinning car that's to come. In short, Disney has this idea down-pat, and it extends to its other, outside-the-parks pursuits, too. Take D23 Expo, the every-other-year, mondo fan experience that spreads into every nook of the Anaheim Convention Center. Some conventions just post dates and leave it at that, but not D23; previews and videos and tidbits build the fervor among the fans, and the tickets? They go on sale a full year, to the day, before the event. Honest, what other happening looks a year out, in its ticket sales? It's a pretty rare thing, but then so is the art of anticipation. D23 Expo 2015 is set for Aug. 14-16, meaning that tickets went on sale on Thursday, Aug. 14.
M, I, C, K, E, Y: Indeed, it's billed as "the largest Disney fan event in the world," meaning that people arrive from all over (with mouse ears planted firmly atop their head). Many of them will have nabbed those tickets early, and with good reason: They're discounted for a "limited time." An adult early bid one-day admission is $61 from Aug. 14 through Dec. 31, and D23 members get 'em for a little bit less. As for what's at the expo? Just about everything under the (Disney) sun: movie previews, star appearances, games, and merch choices aplenty. There has to be a lot: Some 65,000 fans showed up for the 2013 D23 Expo. Consider the Disney bases covered on this one.