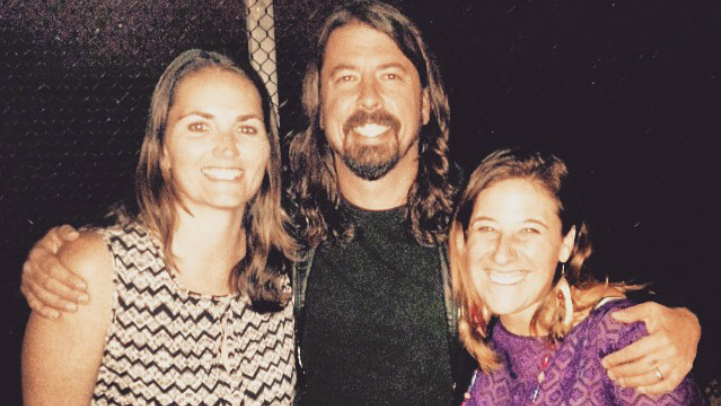 Let's face it: It's only Jan. 9, and you've already missed out on the biggest show of the year.
That's not a knock on you or anything, though. After all, there was simply no way you could have got in to see it anyway. Somehow, planets aligned and the gods of music conspired together to bring Foo Fighters, Lady Gaga and Tony Bennett, and Aloe Blacc to the Belly Up on Thursday night. The 600-capacity Solana Beach venue was completely closed off to the public, and actual word on the show got out mere minutes before it kicked off.
Not like it really mattered the event was a private party for William Morris Endeavor, one of the premier booking agencies in the world, with offices in Beverly Hills, Nashville, NYC, Miami and London. It's an annual thing: Each year, it rents out the Belly Up for a party and hosts a gala for staff at the La Costa Resort & Spa, in Carlsbad. Acts that have played previous years' parties include LMFAO, the Crystal Method, Snoop Dogg and Pharrell.
For what it's worth, WME outdid itself this year. The evening started off around 7:30 with a 30-minute set by Tony Bennett and Lady Gaga, who performed selections from their new duets album of jazz standards, "Cheek to Cheek." After a stage setup change, they were followed by hip hop/R&B star Aloe Blacc (known for such songs as "The Man," "Wake Me Up," and "I Need a Dollar") and a 30-minute set of his hits. The Foo Fighters finally took the tiny stage (for them) and belted out more than 75 minutes of Foo classics ("Monkey Wrench," "Hero") and such well-known covers as Tom Petty's "Breakdown" and Van Halen's "Ain't Talkin' 'Bout Love."
According to Belly Up promotions manager Meryl Klemow, the party was incredible.
"Everyone was extremely nice, and all of the artists seemed to love the Belly Up," Klemow said. "Lady Gaga and Tony Bennett both came in to do a soundcheck earlier. The Foo Fighters did one, too, but had their people do it for them. You could tell during Gaga and Bennett's set that he's definitely one of her idols and that they really respect and admire one another. The Foo Fighters were just amazing -- you could tell Dave Grohl got a kick out of playing a smaller club like ours instead of the huge amphitheaters they normally play. At some point during their set, he hopped offstage, made his way through the crowd and got on top of the bar and played guitar! It really surprised everyone, and we definitely don't see that every day [laughs]. It's so apparent that he has absolutely 100 percent of the passion he had when he started playing music originally. The band hung around afterward and talked with everyone. It was funny seeing the guys on our staff, who are normally very reserved, freaking out about them."
Klemow also got to meet and take photos with Grohl, and said he was incredibly nice, very unassuming and down to earth.
"He was smiling the whole time and couldn't have been a nicer guy," Klemow said. "At one point backstage, he mentioned something about liking our ravioli, and we were like, 'Dave, you can have ravioli here whenever you want! [laughs]' "
Here's a tough question: If you knew the Foo Fighters, Lady Gaga, Tony Bennett and Aloe Blacc were playing your work party, would you be able to keep it a secret? Klemow and the Belly Up staff had to do just that.
"It was almost easier, knowing it had to stay secret," Klemow said. "I didn't tell my family, my boyfriend -- anyone! It's just a secret no one could know. I actually forgot about it for awhile [laughs]. We all wanted it on the down low as much as possible. We just didn't want a mob scene here. But you should've seen it: We had our security, the bands had their security, and let me tell you something: No one's getting through Gaga's security. They're intense [laughs]. Whoever got in were either William Morris Endeavor agents or invited directly by the agency itself."
Klemow was also quick to praise her team, who hosted an awesome show with some of music's biggest stars.
"It's so geeky, but it's very true: Seeing our staff pull together for an event like this and pulling it off without a hitch just made me so proud. They're just so professional; no one was trying to take pictures and everyone was pitching in with jobs they don't normally do. It was great."
Klemow compared the party to a more concise version of one of those huge desert festivals -- you know, the kind that just announced their 2015 lineup: "This is kind of like my ideal version of Coachella. Four amazing acts, done around midnight -- and then you're good to go."

Dustin Lothspeich plays in Old Tiger, Diamond Lakes and Boy King. Follow his updates on Twitter or contact him directly.