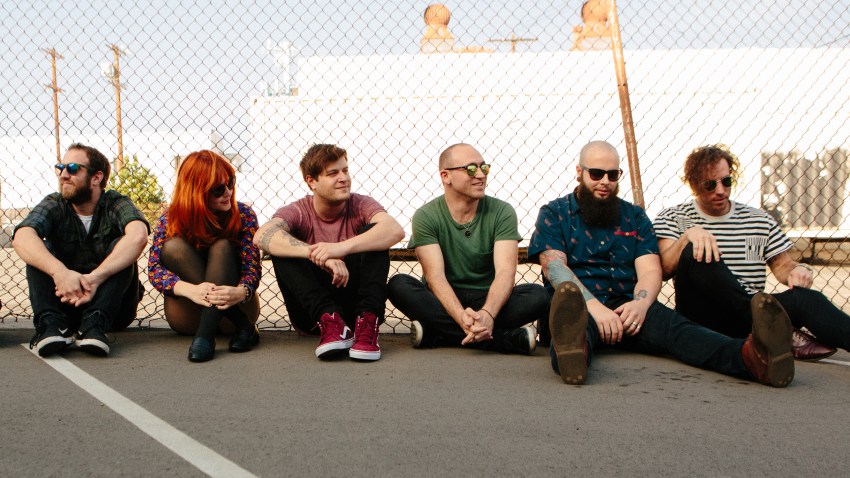 Have you ever tried dating more than one person at a time, thinking you can get away with it, until you're totally caught with everyone in the same place at the same time and you basically have no way out? That's how I feel today. I've been writing here at SoundDiego since our launch in 2010, and this summer we've teamed up with Harrah's Resort Southern California for Summer Splash. Tonight, we have the Mowgli's and Grizzly Business and it's going to be amazing -- now that we have some good weather -- to have great live bands by the pool. If you can get to Valley Center tonight, you should. In fact, book a night and make it a worthy staycation while you enjoy an air-conditioned hotel room. But I also work for the
Casbah
, where Day Wave (one of my favorite new bands) will be playing, and I work for the Observatory, where there is a super cheap show with the Pharcyde. I'm also the content manager for DoSD, who is hosting a free show at SILO with Rob Crow's Gloomy Place and Systems Officer. On top of all that, I dabble as a doorgirl, so I'll be at Sarah Jarosz at the Irenic. So, I'm caught. I've got all of these musical loves, all of these parts that make my work in music so exciting, and I'm also sad because I can only be in one place at a time. Busted.
Saturday, June 18:
SoundDiego Summer Splash with the Mowgli's, Grizzly Business @ Harrah's Resort SoCal
Do the Ride Thing with Rob Crow's Gloomy Place, Systems Officer, DJ Saul Q, B Rose @ SILO at Makers Quarter (4 p.m.)
Rogue Wave, Floating Action @ Belly Up
Day Wave, Nico Yaryan, the Filthy Violets @ Casbah
Rebelution, Hirie, the Expanders @ San Diego Oysterfest
James Taylor @ Valley View Casino Center
Joe Jackson @ Spreckels Theatre
Steve Poltz @ Laurel House Concerts
Barrows, Deep Sea Thunderbeast, Bleak Skies @ Ken Club
Sarah Jarosz, Curtis McMurty @ Irenic
The Pharcyde @ Observatory North Park
Cheap Girls, Santa Ana Knights, Russian Tremors @ Soda Bar
Trevor Noah @ The Events Center, Harrah's Resort SoCal
Neon Beat: Best & Worst of the '80s @ Bar Pink
NAIOP San Diego Presents: Deal Maker's Bash @ Music Box
Rottweiler Clothing release party @ Whistle Stop
Grand Funk Railroad @ San Diego County Fair
Mainly Mozart Festvial @ Balboa Theatre
DSB: An American Journey @ House of Blues
Rob Stone, Spooks, 1207 @ Soma
Brad Perry @ Crossroads, House of Blues
The Mighty Cruise Control @ The Hideout
Gimme Gimme Gimme launch party @ The Bancroft
Ad Seg, Systematic Abuse, Biriuk, Bukkorosu @ Tower Bar
Chuck Perrin's 70th birthday performance @ Dizzy's
Inspired Movement Dance: Dancing Through the Decades @ California Center for the Arts, Escondido
Groovesession, Shell Shock @ Winston's
The Phantoms record release, the Touchies, Action Andy @ Til-Two Club
Zoe Keating @ AMSD, Sweetwater Union High School
Gone Baby Gone, the End @ The Black Cat
Devildriver, Holy Grail, Incite, Hemlock, Daemos @ Brick by Brick
Gary Hoey, RDG @ Ramona Mainstage
Adam Salter @ El Dorado
Motez @ El Camino
US Air Guitar Championships @ The Merrow
Dazed and Confused @ 710 Beach Club
Detroit Underground @ Tio Leo's
The Cadillac Wreckers @ Humphreys Backstage Live (5 p.m.)
Funk's Most Wanted @ Humphreys Backstage Live (9 p.m.)
Reflex @ Fluxx
Bare @ Bassmnt
Eric D Lux @ Omnia
DJ Ikon @ Parq
Skylar Spence @ Bang Bang
Wes Hoppe & Good Ghos Present Terry Mullan @ Kava Lounge
Distrikt Fundraiser @ Spin
Rosemary Bystrak is the publicist for the Casbah, the content manager for DoSD, and writes about the San Diego music scene, events and general musings about life in San Diego on San Diego: Dialed In. Follow her updates on Twitter or contact her directly.