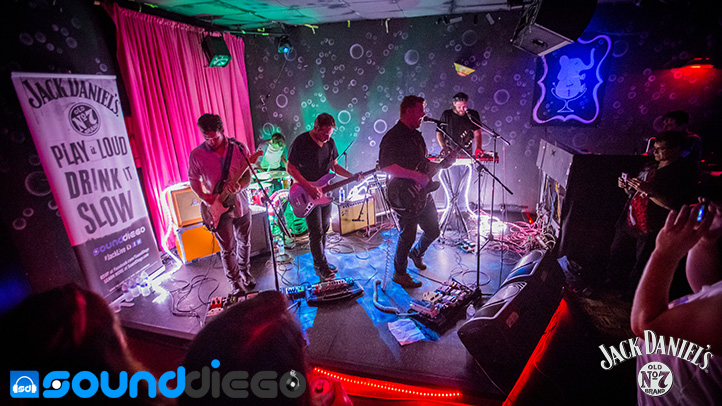 There is so much great music around that hopefully you've avoided one of the crazy illnesses going around that seems to be taking out so many of us. Sycamore Den taps the Heart Beat Trail, Soda Bar goes punk with Cro-Mags, and the Observatory North Park keeps on the rap tip with Juicy J. The show to see, of course, is Barbarian at the Casbah. The band is fresh off its album release (which just joined our SoundDiego Record Club) and currently prevailing in many "most likely to" categories. Yes, we've expected big things from these guys for some time now, but it just might be the moment when their star finally rises beyond "hometown hopefuls."
Thursday, Feb. 12:
Barbarian, Fever the Ghost, Idyll Wild, Mystery Cave @ Casbah
Cro-Mags, Bumbklaatt, Nerve Control, DJ Heather Hardcore @ Soda Bar
The Heart Beat Trail, the Gift Machine @ Sycamore Den
Unwritten Law, Lindsay Perry @ Brick By Brick (POSTPONED)
The Husky Boy All-Stars @ Bar Pink
Zion I, Vokab Company, Locksmith, Key Choice, J Lately @ Belly Up
The Verigolds @ Seven Grand
Juicy J @ The Observatory North Park
The Bloodflowers, Organic Alliance, Nutstache @ The Merrow
Pharmakon, Die MiBBuldungen des Menchen, Ev (of Isis & Identity) @ The Hideout (CANCELED)
Selfdecay, the Velvet Teaparty, Alexa @ Lestat's
Hail the Sun, Stolas, Boxdox, ArtMonk, Buffalo Picnic @ Voodoo Room, House of Blues
Kid Wonder @ U-31
Todo Mundo @ Croce's Park West
New Joy Band, DJ John Phillips @ Humphrey's Backstage Live
The Gregory Page Show @ Java Joe's
Missy Anderson @ Tio Leo's
Gigamesh, the Travelers Club @ Vin de Syrah
Hip-Hop Social #23 @ Winston's
No Limits, Myson King @ The Office
The Tighten Up, Kid Wonder @ El Dorado
Erick Diaz @ Fluxx
Jochen Miller @ Bassmnt
Recommended Dosage, DJs Mike Turi & Mark Garcia @ Whistle Stop
Revival DJ Reefah, TRC Sound System @ Gallagher's Irish Pub
Live Band Karaoke @ 710 Beach Club
Rosemary Bystrak is the publicist for the Casbah and writes about the San Diego music scene, events and general musings about life in San Diego on San Diego: Dialed In. Follow her updates on Twitter or contact her directly.