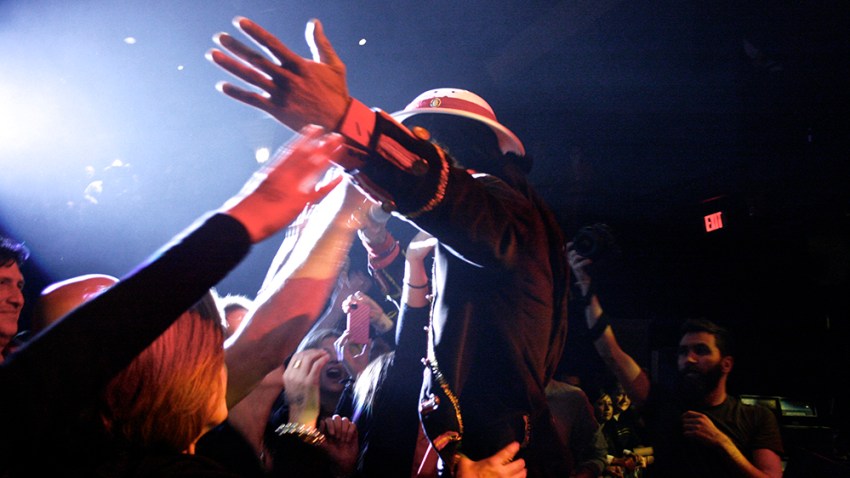 It was a few years since saw Thievery Corporation, but as headliners at Oysterfest this summer, it was clear they have embraced more styles and genres of music over the years, moving beyond just the trip-hop label they seemed to have invented -- or at least perfected. They definitely knew how to engage their audience and kept the festival going about a half-hour longer than it was supposed to be, so you can probably count on more of the same when they play at the track after the final race on Friday. As summer comes to a close, this is probably your best bet for music under a clear evening sky. Around town, you can catch the Muffs at the Casbah, the Palace Ballroom come out of hiding for a headlining show at Soda Bar, and Super Diamond rock the Belly Up.
Friday, Aug. 7, 2015:
Thievery Corporation @ Del Mar Thoroughbred Summer Concert Series
The Muffs, the New Kinetics, the Touchies, Honeychain @ Casbah
The Palace Ballroom; Oh Spirit; Mooncrier @ Soda Bar
Old Tiger, Michael McGraw & the Butchers @ Seven Grand
Artistic @ Bar Pink
Atomic Groove @ Belly Up (5 p.m.)
Super Diamond, A Certain Groove @ Belly Up
Robin Henkel, Reverend Stickman @ Templar's Hall in Old Poway Park
Saxophonist Nathan Collins & His Quintet @ Dizzy's
Just in Case, Lysolgang, Milo, Geneva, Sad Muffin, From Chaos & Heaven @ SOMA
Gunner Gunner, the No Name Gang, Sectas, Decompression @ Brick By Brick
Stained Glass Windows, the Honey Spelunkers, the Wind Playing Tricks @ Che Cafe
Bushwalla @ Java Joe's
CANCELLED: Lil Durk with Gunplay and Hypno Carlito, Gunplay @ House of Blues
Forever Came Calling, You Me and Everyone We Know, Seasons Change, Like Pacific @ House of Blues Voodoo Room
Sleep Terror, Mortuus Terror, Fermentor @ The Merrow
Lee Churchill @ U-31
Rosemary Watson @ Croce's Park West
Detroit Underground @ Humphrey's Backstage Live
Hip Hop vs. Punk Rock @ Tower Bar
E.N. Young & Uplift @ Winston's
The Copperheads, Muscle Beech, Tape Heads @ Til-Two Club
Reflex @ Fluxx
Junior theDISCOpunk @ Henry's Pub
Rhythm & the Method @ 98 Bottles
Flo Rida @ Parq
Jack Beats @ Bassmnt
Louis the Child, Josh Jacobson @ Bang Bang
Club Musae @ Boar Cross'n
Monster on Sunday, Shelley Segal, Comedian Steve Hill @ Ramona Mainstage
Rosemary Bystrak is the publicist for the Casbah and writes about the San Diego music scene, events and general musings about life in San Diego on San Diego: Dialed In. Follow her updates on Twitter or contact her directly.