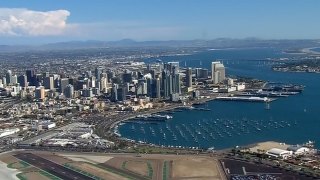 A former city employee who played a pivotal role in the lawsuit involving a controversial real estate development has accepted a position as vice president with the private company.
Former Deputy City Attorney Andrea Contreras left her job with the city this summer and went to work for Sunroad Enterprises.
Contreras previously defended the city, and by extension, Sunroad, in an ongoing lawsuit brought by San Diegans for Open Government that questions the legality of two nine-foot easements granted by the City Council in 2013 to Sunroad Enterprises.
"The lawsuit is a sham," wrote Contreras on behalf of the city, according to The Reader, in an August 2013 court document.
Court papers she wrote argue against San Diegans for Open Government's position that the 18-feet of easements were illegally granted after Sunroad made $100,000 in donations in exchange for the land.
City Attorney Jan Goldsmith, Contreras' then-boss, originally raised the alarm about the land giveaway, pointing out the land-grant could be viewed as a "quid-pro-quo" arrangement made at the behest former Mayor Bob Filner. Then, Goldsmith evidently changed his mind about the legality of giving away public park space to Sunroad because Contreras argued in subsequent court records that granting the easements was legal after all.
After the lawsuit was filed, the nonprofit organizations that received the donations returned the money.
"The project obviously is not a sale of City property," wrote Contreras, while she was still working for the city, in the August 2013 court document.
Contreras became Vice President of Sunroad Enterprises in June 2014, according to her LinkedIn profile.
Reached at her new office, she declined to comment on when she was offered her new position with Sunroad.
NBC7 Investigates asked the City Attorney's office if there is a "revolving door" policy that prevents city employees from immediately going to work for a company for which they had the opportunity to influence city decisions.
A spokesman for the City Attorney's office said there are rules in place preventing former city employees from lobbying current officials on behalf of their new employers within a certain time period after they leave the city.
"There are legal restrictions as discussed above, but we cannot ban employees from obtaining other employment," City Attorney Spokesman Michael S. Giorgino said.
Contreras is not the first city "talent" snagged by Sunroad.
Former chief of staff to Mayor Dick Murphy, Tom Story, also left the city in 2005 to go work for Sunroad.