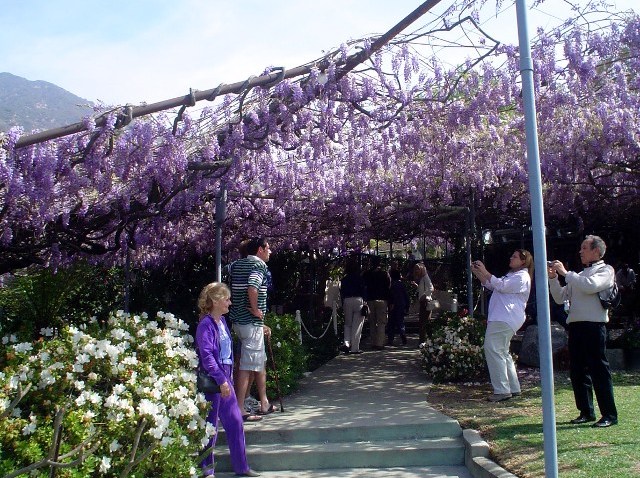 Any time it rains, and we're all bemoaning "California drivers" (whatever that might mean; we suspect people living everywhere have similar, place-based mutterings), and we're waiting for the sun to return, we always pause to think of a particular denizen of Sierra Madre.
Perhaps you're acquainted with the Sierra Madren we speak of; it's 250 tons and then some, and it'll turn 117 in 2011.
We're thinking, of course, of the famous wistaria vine of Sierra Madre, which loves the rain, we suspect, in the way all growing things do. And the vine'll be getting some more of the good wet stuff on the day of its annual festival, which is Sunday, March 20.
If you feel like you need to see the World's Largest Flowering Plant, per the Guinness Book people, then don your galoshes and prepare for a wild wonder. The wistaria is growing over two backyards, and we do mean growing; the concept of a purple-y ceiling comes to mind.
There will also be a sweet village fest in Sierra Madre proper, complete with artisans and crafts and music and walk-around-and-nosh foodstuffs.
We're hoping the showers won't be too intense, of course; light enough for people wanting to be outside, and juicy enough to help that really, really big vine get just a little bigger.
You'll want shuttle info, we're betting, since it is a bit of a walk from the village to the wistaria's address.
And whatever you do, spell it wistaria; we know in other parts they go with a middle "e," but not here. Maybe we're just fancier 'round California parts, with our wistaria and all our fancy California things.
Copyright FREEL - NBC Local Media