Weihan "David" Wang had told his parents he wanted to move out of the Isla Vista apartment he was sharing with Elliot Rodger, saying the 22-year-old Santa Barbara City College student played his music too loud in the middle of the night and wasn't very social.

Then, on Friday night, Rodger went on a killing spree.
He fatally stabbed 20-year-old Wang of Fremont and his two Bay Area friends in their Isla Vista apartment, then killed two sorority sisters and a 20-year-old man at a deli, and injured 13 others, before killing himself, according to authorities.
Sheriff's deputies say Rodger, the son of Hollywood director Peter Rodger, had written a 137-page manifesto about how he wanted revenge on the world. He posted on a May 23 YouTube video called "Life is So Unfair," describing himself as a lonely virgin who had never kissed a girl. He said in those writings that he planned to kill his roommates at the start of his rampage. His Facebook page was full of selfies.

On Monday, Wang's bereft parents, Jinshuang "Jane" Liu and Charlie Wang spoke exclusively to NBC Bay Area before heading to Santa Barbara to be with the parents of the other slain victims.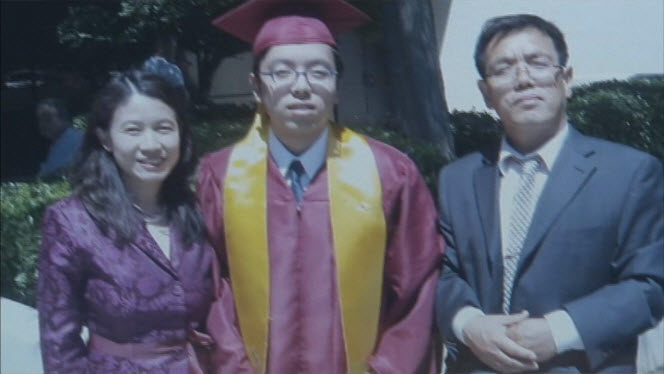 "He was supposed to have come home for the summer soon," Liu said, speaking from her doorstep, her words choked with emotion, her hands often covering her heart.

Weihan "David" Wang at his 2012 graduation from Fremont Christian School with his parents, Jane Liu and Charlie Wang.
Liu said that her only child - a basketball player who graduated from Fremont Christian School and who was studying computer engineering at UC Santa Barbara - had already found another apartment and planned to move with his friends next semester.
"Normally, they don't talk to each other," she said of her son and Rodger. "They don't have much interaction."

Wang's plan, his mother said, was to return to the Bay Area on June 12, head out on a family trip to Yellowstone National Park two days later, and celebrate his 21st birthday in July. He eventually wanted to start a business with his friends.

Wang's mother said her son was very close with the other two young men stabbed in the apartment: 19-year-old George Chen and 20-year-old C.H., both of San Jose.
According to their Facebook pages, C.H. was a 2012 graduate of Lynbrook High School and was studying computer engineering. Santa Barbara District Attorney Joyce Dudley said C.H. pleaded guilty to petty theft after stealing three of Rodger's candles valued at $22.
Chen, originally from Ottawa, Canada, graduated the same year from Leland High in San Jose and had been a camp counselor for the YMCA. Paige West of San Jose said in a phone interview that she went to Bret Harte Middle School in San Jose with Chen, whom she described as quiet and a lover of anime.

Liu, a nurse, received a call at work on Friday night from police.
"For two days, I was not able to sleep," she said. "I still don't know what to do with myself."
As Liu struggled to describe her son - "a very, very nice boy," the kind who aced his SATs and never bragged about it - her husband could only stand in the doorway, hugging his wife and uttering deep, gutteral cries. "He was always the joy of the family," his mother said.


Weihan "David" Wang and his parents, Jane Liu and Charlie Wang on family trip. Undated.
The couple moved from Tianjng, China ten years ago, and were at a loss to put into words their feelings after losing their only child to such an unprovoked act of violence.
If not for her husband, Liu said she doesn't know if she could go on.

"I wish I could go in exchange of my son's life," she said, tears filling her eyes. "I'm just heartbroken. You just can't imagine for a mom."

Liu just doesn't know why this had to happen.

"I'm a strong mom, I'm a nurse, I'm nice to my patients," she said. "I go to my church a few times a week. I ask God, 'Why doesn't he take me instead of my son?' I don't understand why this happened to me."