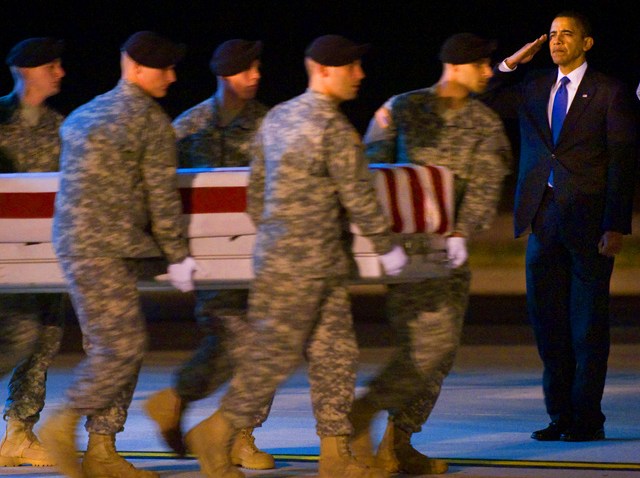 Maybe Dick Cheney was too harsh last week when he accused President Obama of "dithering" over his Afghanistan strategy, but U.S. indecision in the face increasing violence is lending credence to the former veep's charge and heaping pressure on the administration to act.
Obama is being pressed to mount an Iraq-style troop surge, but seems to be waiting until the Nov. 7 election run-off to make his move. In the meantime, violence on the ground is painting an ever-more chaotic picture of the war-ravaged nation, and daily diplomatic developments continue to ratchet up the pressure on Obama to act.
Fourteen U.S. troops died in killed in two helicopter crashes Monday and eight U.S. soldiers were killed in separate bombings Tuesday -- making October the deadliest month since the Afghanistan war began eight years ago.
Eight United Nations staffers were killed in Kabul Wednesday. The murders of these civilians, sent to help oversee the upcoming election, underscores the lawlessness in Afghanistan and the obstacles to helping to build a civil society.
While Obama deliberates over Gen. Stanley McChrystal's call for more troops, NATO has emphatically endorsed it, placing yet more pressure on Obama to sign off on a surge.
A Marine-turned Foreign Service officer, Matthew Hoh, raised eyebrows by resigning in protest, declaring in a letter made public that neither the U.S. strategy nor objectives make sense. Hoh wasn't a senior official, but his Sept. 10 resignation earned him meetings with the U.S. Ambassador and even Richard Holbrooke, the administration's point man on the war.
U.S.-backed Afghan President Hamid Karzai is in a runoff election because of the widespread perception his regime is corrupt. His brother has been linked to the drug trade, yet is also reportedly on the CIA payroll. That makes both governments look bad.
The Obama team recognizes the political peril created by the Afghanistan situation. On Wednesday evening, the president flew to Dover Air Force Base to meet families of troops slain this week. It was the right thing to do, but it also put the spotlight on the human sacrifice America is making in Afghanistan. Such reflection gives rise to new questions. Americans will want to know why soldiers are dying in what Obama has called a "war of necessity," and they will want to know that we have a sound strategy for winning -- and exiting.
If President Obama doesn't make a decision soon on Afghanistan -- stay, go, stay with more troops or stay with less -- the paralysis of analysis will spark a brushfire of anger and frustration from all political corners.
He wants to hold out until the election runoff is decided.
He may not have that much time.
New York writer Robert A. George blogs at Ragged Thots. Follow him on Twitter.
Copyright FREEL - NBC Local Media