The diving pool at the Rio Olympics has turned green, and inquiring minds -- like silver-medal-winning U.S. diver David Boudia -- aren't sure why.
Tom Daley, who won bronze for Great Britain in Rio, is equally puzzled.
The women's synchronized 10m platform finals went on as planned Tuesday despite the green water, with the Chinese duo of Chen Ruolin and Liu Huixia coming out on top.
Here's an image of what it looked like from above during Tuesday's competition: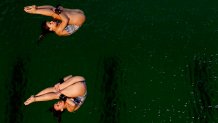 And here is what it looked like on Monday: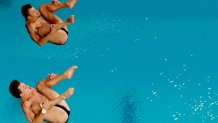 This is the first Olympics since Athens in 2004 that the diving events are being held at an outdoor pool, so there is a bigger chance of something like this happening than if this was an indoor venue in a climate-controlled environment.
The Rio 2016 Organizing Committee released the following statement on Tuesday to address concerns: "A high quality field of play is of the utmost importance to the Rio 2016 Committee. Water tests at Maria Lenk Aquatic Center's diving pool found there is no risk to the athletes' health. We are investigating what the cause was but are pleased the competition was completed successfully."