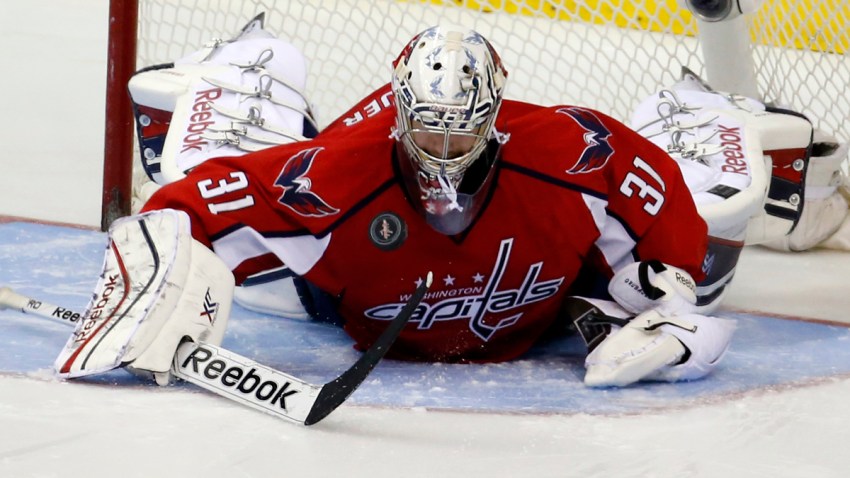 Michael Ryder scored twice and David Krejci added a goal and two assists in the Boston Bruins' 5-1 victory over the Carolina Hurricanes in the NHL on Saturday.
Stephane Yelle and Mark Stuart also scored for Boston, which has won 12 of 14.
Tim Thomas made 29 saves for Boston and missed out on a shutout when Justin Williams scored with 13:53 remaining.
Blake Wheeler had two assists for Boston, 3-0 against Carolina this season and 11-1 versus the Southeast Division.
Avalanche 5, Penguins 3
At Denver, David Jones had two goals and an assist as Colorado beat Pittsburgh for its third straight win.
Ryan Smyth and Wojtek Wolski each had a goal and an assist for the Avalanche. Jordan Leopold also scored.
Sydney Crosby and Evgeni Malkin had a goal and assist apiece, and Jordan Staal scored a short-handed goal for the Penguins, who have lost seven of eight.
Panthers 8, Thrashers 4
At Sunrise, Florida, Ville Peltonen scored twice in a five-goal third-period outburst that lifted Florida over Atlanta.
Michael Frolik, Jay Bouwmeester, Radek Dvorak, Cory Stillman, David Booth and Nathan Horton also scored for the Panthers, unbeaten in their last five games. Dvorak also had two assists.
The Panthers set a season high with the eight goals. They have scored 27 goals in their last five games.
Colby Armstrong, Todd White, Erik Christensen and Ilya Kovalchuk scored for Atlanta, which has lost three of four. White and Vyacheslav Kozlov each had two assists.
Red Wings 3, Sabres 1
At Detroit, Mikael Samuelsson scored the go-ahead goal with 2:34 as Detroit beat Buffalo.
Samuelsson added an assist, Jiri Hudler had a goal and an assist, and Marian Hossa also scored for Detroit, which won its sixth straight. Ty Conklin made 21 saves.
Derek Roy scored for Buffalo, which had its four-game winning streak snapped.
Devils 5, Kings 1
At Los Angeles, Brian Rolston, Travis Zajac and Patrik Elias scored power play goals as New Jersey downed Los Angeles.
Jamie Langenbrunner had a goal and an assist and New Jersey backup Kevin Weekes made 34 saves in his first start since a 4-2 loss against Buffalo on Dec. 13. First-time All-Star Zach Parise got his 100th career goal and Zajac had two assists.
Weekes lost his shutout bid when Derek Armstrong redirected Alexander Frolov's shot from the top of the right circle with 18:43 remaining. Frolov returned to the lineup for the first time since Dec. 9 after missing 13 games, the last seven with a concussion.
Rangers 2, Senators 0
At Ottawa, Henrik Lundqvist made 33 saves to earn his second shutout in three games, and Brandon Dubinsky and Lauri Korpikoski provided the offense in the New York Rangers' victory over Ottawa.
Lundqvist, selected this week for his first NHL All-Star game, stopped 27 shots in a 4-0 victory over Pittsburgh on Monday to pick up his first shutout this season. He allowed five goals in a home loss to Montreal on Wednesday, but bounced back against Ottawa.
He has 19 career shutouts in four NHL seasons. That spoiled the outing by Senators goalie Brian Elliott, who made his second NHL start.
Canadiens 5, Capitals 4
At Montreal, Sergei Kostitsyn scored Montreal's fourth third-period goal with 21.2 seconds remaining to give the Canadiens a win over Washington.
Kostitsyn, who assisted on his brother Andrei's goal in the third, scored unassisted to help Montreal extend its winning streak to four.
Tomas Plekanec scored his second goal of the game 4:31 into the third, and the Canadiens scored three goals within 2:35 to twice take the lead.
Robert Lang and Andrei Kostitsyn put Montreal up for the first time moments earlier on power-play goals 43 seconds apart.
Tomas Fleischmann's goal at 4:15 evened it at 3. Michael Nylander drew Washington even for the second time in the third. Alexander Semin scored twice for the Capitals.
Blue Jackets 4, Wild 2
At Columbus, Ohio, Nikita Filatov became the first Columbus rookie to score three goals, helping the Blue Jackets beat Minnesota.
Derek Dorsett also scored, Jakub Voracek added a career-high three assists, and Michael Peca added two for Columbus, which played its first home game after a 4-2 cross-country trip. Columbus has won seven of eight at home.
The 18-year-old Filatov scored eight goals at the recent world junior championship to lead Russia to the bronze medal. He was recalled afterward and has four goals in six NHL games.
Rookie goalie Steve Mason, who entered as the league leader with six shutouts and a 1.74 goals-against average, made 21 saves.
Marek Zidlicky had a power-play goal and assist, and Antti Miettinen scored for the Wild.
Sharks 4, Canucks 2
At Vancouver, British Columbia, San Jose captain Patrick Marleau scored on the power play midway through the third period and added his second with 2:06 left in a win over Vancouver.
Mats Sundin scored his first goal in his third game with the Canucks, but for the second straight night was in the penalty box when the winning goal was scored. Sundin, who was serving a slashing penalty when St. Louis went ahead with 2:10 left Friday night, was off for high-sticking when Marleau scored.
Flyers 4, Maple Leafs 1
At Philadelphia, Jeff Carter scored twice in the third period to take the NHL lead with 29 goals and lifted Philadelphia to its season-high eighth straight home win.
Mike Richards and Andrew Alberts also scored and Martin Biron stopped 41 shots for Philadelphia, enjoying its best spurt at home since winning nine in a row during the 2005-06 season.
The Flyers are unbeaten in their last 14 home games and haven't lost in Philadelphia in regulation since Nov. 8.
Alexei Ponikarovsky scored for Toronto, which has lost three straight.
Predators 4, Blackhawks 1
At Nashville, Tennessee, David Legwand scored twice for Nashville in a win over Chicago.
Shea Weber and Radek Bonk also scored for the Predators, who earned their second straight win.
Adam Burish scored for the Blackhawks, who lost their second in a row.
Coyotes 1, Stars 0, SO
At Glendale, Arizona, Kyle Turris scored in the fifth round of the shootout to lift Phoenix over Dallas.
Ilya Bryzgalov made 38 saves in regulation and overtime, then stopped three of five in the shootout for the Coyotes, who won for the first time in six overtime games.
Peter Mueller and Steven Reinprecht also scored in the shootout for Phoenix, which has won two straight overall.
Marty Turco made 28 saves for the Stars, who have lost three of four.

Copyright AP - Associated Press