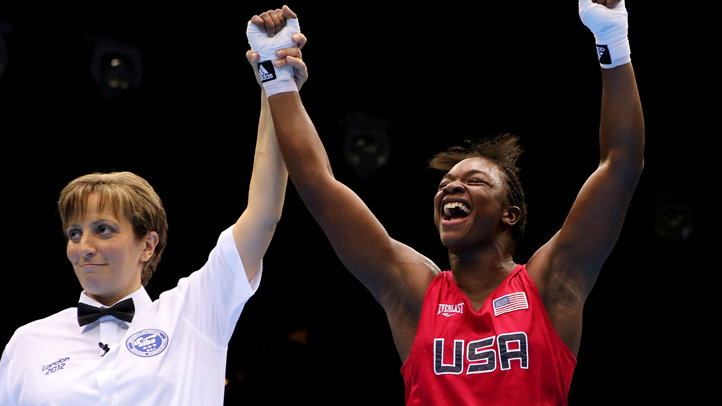 Claressa Shields, a 17-year-old from Flint, Mich., became the world's first ever female middleweight Olympic champion after defeating her Russian opponent Thursday to the unrelenting chants of "USA."
After gaining a five-point lead over Nadezda Torlopova in the third round, Shields' coach leaned in and told the champion, "now let's have some fun."
Shields extended her lead even more and finished the bout with a commanding 19-12 victory.
The exuberant high school junior laughed out loud when her arm was raised in victory and continued laughing, dancing and smiling incessantly all the way to the medal podium. Her dream had come true.
Shields' gold will be added on to Team USA's bronze medal, which her teammate Marlen Esparza won Wednesday. The Houston Cover Girl model made it to the semifinal round before losing to China's world champion, 10-8.
The final member of the USA women's boxing trio, Quanitta "Queen" Underwood, was eliminated after losing her first bout of the Games, 21-31, to the U.K.'s Natasha Jonas.
Jonas' teammate, Nicola Adams, went on to become the first female gold medal winner crowned at the Olympic Games—a sweet win for the host country. She won her final flyweight bout against China's Cancan Ren, 16-7, to deafening cheers.
Ireland's Katie Taylor, the pound-for-pound world champion and darling of the crowd, took the gold in the lightweight division after defeating Russia's Sofya Ochigava 10-8.
The Excel Center roared with applause after each of the three historic victories that seemed improbable just a decade ago when women were still battling for acceptance in a male-dominated sport.
Through lawsuits and tireless campaigning, however, female boxers and their advocates were able to dispel myths about the fragility of women's bodies and convince the International Olympic Committee to officially add a women's component to the 2012 Games.
This summer, 36 female boxers competed in three weight categories, while 250 male boxers competed acoress ten categories. The limited slots open to women excluded a number of top athletes but also made for some of the most elite contests of the Games.
The sold-out Excel Center, the deafening cheers and the widespread interest in the women's matches were a massive win for women's boxing and for each of the gold medal winners whose pioneering victories will be cemented in history.