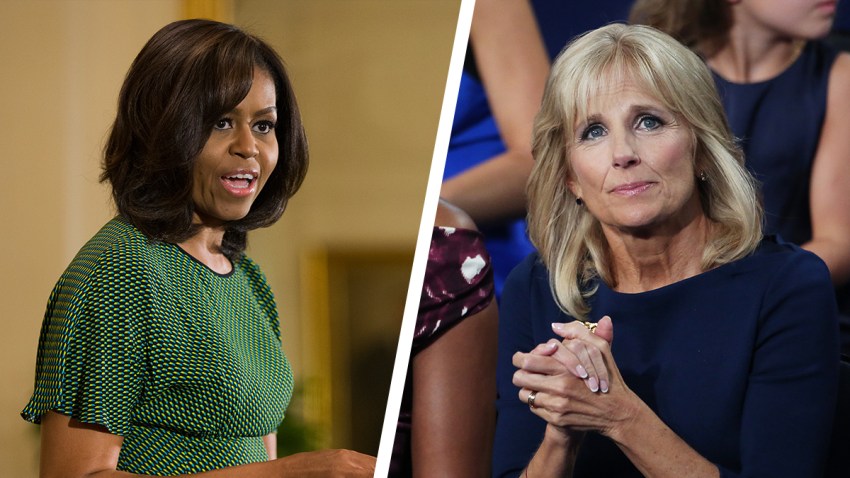 "The Voice" is welcoming two very special guests on Monday: First Lady Michelle Obama and Dr. Jill Biden. No, they're not singing – but the duo will appear live alongside coaches Christina Aguilera, Adam Levine, Blake Shelton and Pharrell Williams and host Carson Daly to promote the fifth anniversary of their organization Joining Forces.
FLOTUS and Biden are traveling across the country this week to promote the anniversary of Joining Forces. The organization calls on all Americans to show support for service members, veterans and their families by offering them employment, education and wellness opportunities.
The entire audience of "The Voice's" top 10 performance show on Monday night will be filled with active duty and retired service members and military families.
The following night, FLOTUS guest stars on "NCIS" – the very first non-news production granted permission to film inside the White House in an episode that also promotes Joining Forces.
"She was just wonderful and welcoming and I can't thank her enough for what she did for our crew," "NCIS" showrunner Gary Glasberg told E! News of the show's trip to Washington D.C. "And then we did a couple of scenes outside the White House as well. It was a special day for us. And at the end of the day it's all about this organization and the support of this organization and we're happy to do it."
"The Voice" airs Mondays and Tuesdays at 8 p.m. on NBC. "NCIS" airs Tuesdays at 8 p.m. on CBS.
(E! and NBC are both part of the NBCUniversal family.)
First Lady Michelle Obama to Guest Star on "NCIS"
Renewed or Canceled? Find Out the Fate of Your Favorite Shows
Copyright E! Online