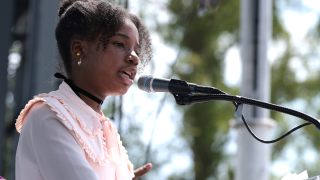 At just 13, Yolanda Renee King is already a seasoned speaker and activist.
Many might have first noticed the similarities between her and her grandfather, the civil rights leader Martin Luther King Jr., when she took the stage at the 2018 March For Our Lives student-led demonstration in Washington, D.C., to talk about gun control. Or perhaps when she spoke about racial equality on the steps of the Lincoln Memorial in 2020.
The granddaughter of King and his wife, Coretta Scott King, Yolanda is using her voice this MLK Day to call attention to the importance of voting rights, and why younger generations should be involved with the fight. 
"MLK Day is not a day off," Yolanda said, but instead, "it should be treated as a day on. It's a day of service." 
While some might be inclined to celebrate the day by reflecting on her grandfather's life, she said, there are more impactful ways to spend the holiday, urging Americans to pick a service project and do something to help the community. "It could be something as simple as picking up trash around your neighborhood park," Yolanda said.
Read the full story at NBCNews.com.