UPDATE: Police identified the teen suspect as 16-year-old Marvin Roberts. He is being charged as an adult. Details HERE.
---
Police arrested a teen boy accused of shooting and killing a father who tried to protect his 2-year-old daughter during a carjacking in the Spring Garden section of the city Thursday night.
The 16-year-old boy's older brother, identified by police as 21-year-old Maurice Roberts, was also arrested in connection to the carjacking and shooting.

Police say the 16-year-old boy shot and killed Gerard Grandzol, 38, as he got out of his car along the 1500 block of Melon Street just after 8 p.m. Thursday.

The father of two had just returned from an outing at Fairmount Park's Lemon Hill with his 2-year-old daughter and dog when the teen and Roberts, who were both dressed in black, held him up at gunpoint, police said.

Grandzol handed over his wallet, but when the men demanded his car keys, he refused. His daughter was still inside the car.
The teen boy then allegedly opened fire and shot Grandzol twice in the face.
"They wanted the car," Philadelphia Police Captain John Ryan said. "Mr. Grandzol said his 2-year-old was in the car. The 16-year-old just stepped up to Mr. Grandzol and shot him twice in the head."

The gunmen fled the scene on foot. The killing was captured on surveillance video and helped lead investigators to the suspects.
"In almost 29 years it's probably one of the most disturbing videos I've ever seen," Philadelphia Police Chief Inspector James Kelly said.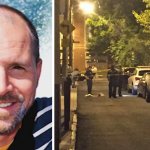 When first responders arrived, they found Grandzol's daughter crying in the backseat, sources said.
Brendan Fernald, Grandzol's friend and neighbor, rushed over to help and try to keep him alive.
"[I] jumped down and started putting pressure on his wounds. Then, scooping the blood out of his mouth so he could breathe," Fernald said.

Grandzol was rushed to a nearby trauma center where he died about 90 minutes later, police said.
Police identified the teen boy and Roberts as suspects in the shooting. The teen was arrested Saturday and charged with murder as an adult. U.S. Marshals also tracked down Roberts in North Jersey. He will be charged after being taken back to Philadelphia, police said.

Ryan described the deadly carjacking as an apparent "crime of opportunity" saying that the men seemed to be passing through the neighborhood when they singled out Grandzol.
A St. Joseph's University alum who was highly involved in the community, Grandzol volunteered for Project HOME, served on a neighborhood organization and belonged to various civic groups.
"We called him the mayor," Fernald said. "He engaged himself with everyone he met. That was remarkable. I'll miss him so much."

Grandzol served as a leader of Special Counsel, a legal staffing recruiting service.

"Gerry was loved by everyone who had the privilege to know him, not just as a colleague, but as a force of nature who loved life. We will always remember him as a leader, philanthropist, proud father, loving husband and good friend," Special Counsel president Laurie Chamberlin said.
Grandzol leaves behind a wife and two children. The family welcomed home a newborn baby girl only five weeks ago.
"He was an amazing dude," said Scott Rudich, the co-founder of Lansdale, Pennsylvania-based Round Guys Brewing where Grandzol would occasionally tend bar.
"My heart is hurting for them, for their family."