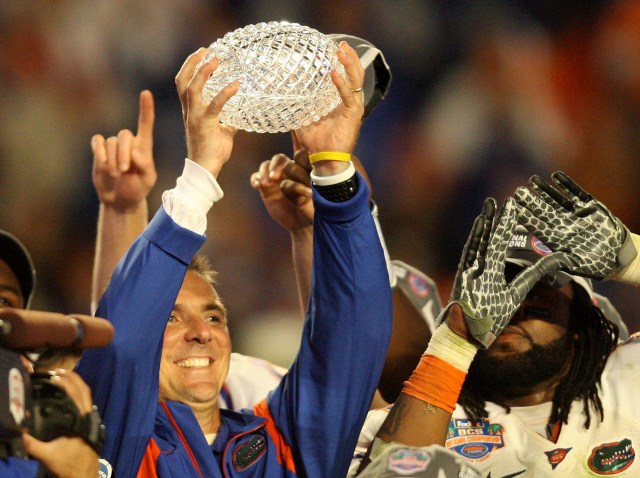 We're nearing the end of another college football season and, once again, it looks like we're going to wind up with several teams having reasonable claims to a spot in the National Championship game. That means teams will be left out of the reckoning and it means that people will spend another year making sport of college football's determination to decide its champion via computer instead of on the playing field.
This doesn't make the powers that be behind the BCS very happy so they've decided to do something about it. Taking a page from America's businesses and politicians, the BCS is now paying a company to tell people that what they think is wrong. They aren't messing around, either. They've hired Ari Fleischer, former Bush press secretary, to do their spin.
Unpopular college football bureaucracy hires man who was the mouthpiece for an unpopular president without making him the least bit more popular? That's one way to go, although you have to wonder if there's anything that any PR flack could do to fix the BCS.
Fleischer's first move shows the banner-on-an-aircraft-carrier-sized task he's got in front of him. The BCS launched a Twitter feed designed to spread propaganda in favor of their annual trainwreck, which has been met with the kind of rousing approval usually reserved for those who drown kittens.
Based on the Twitter posts, the argument from the BCS seems to be "Now is the time where college football fans need to be careful about what they say."
Just kidding. Their approach is actually admitting that the current system may suck, but so do all the other ideas so why bother changing. It's stirring stuff. One such example is that there will be potentially worthy teams excluded from a playoff. That's true, but you don't hear many people complaining that the college basketball champ is a fraud because a sixth ACC team didn't get a bid. When things are settled on the field, sports fans get over things mighty quickly.
We could go on and point out flaws in many of their assertions, but the simple fact that the BCS feels the need to spin itself should tell you all you need to know about its legitimacy. People love football. If you need to work that hard to sell it, it should be pretty clear that there's no demand for it no matter how many pithy arguments you can make for its existence.
Josh Alper is a writer living in New York City and is a contributor to FanHouse.com and ProFootballTalk.com in addition to his duties for NBCNewYork.com.
Copyright FREEL - NBC Local Media