A small plane crash left two people dead and started a small fire in Hesperia Friday, authorities said.
The crash occurred at around 5 p.m. just south of Hesperia Airport when a light plane went down just south of the runway, San Bernardino County Fire said.
The crash occurred near the 138 Freeway at Summit Valley Road, with flames feeding on vegetation. The fire had since been extinguished. Wires were also said to be down.
San Bernardino County Fire said the two people aboard had been killed. No other injuries were immediately reported.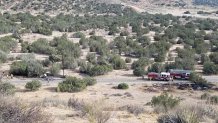 The FAA and National Transportation Safety Board were notified.
Summit Valley road south of Los Flores was closed to drivers, and they were asked to use alternate routes and avoid the area.
At the time of the crash, a car traveling on Summit Valley Road was hit by debris, but no one in the car was hurt, the San Bernardino County Sheriff's Department said.