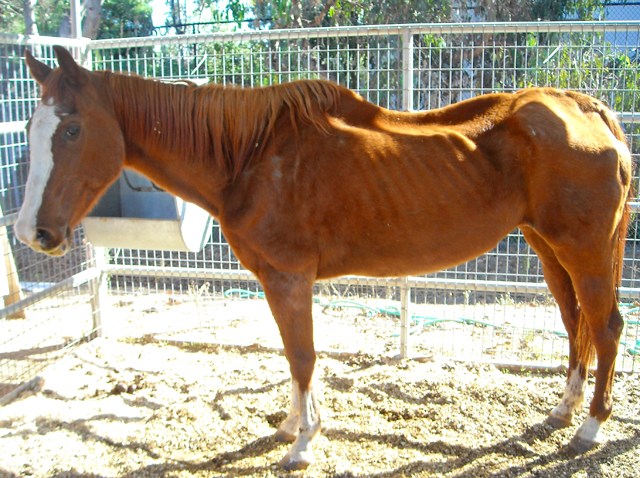 The Little Red Mare is getting another shot at life, thanks to the folks at Horses of Tir Na Nog.

The 30-year-old horse, technically a chestnut mare, was brought to the horse sanctuary last week. Amy Pat Rigney of Tir Na Nog's said the animal was originally found loose in De Luz, but it's not known how she came to be there, since there is no registered owner of a similar horse in that Fallbrook community. (Yes, we wondered the same thing: What's a Tir Na Nog?)

Anyway, a Lakeside couple first took her in, but the help the horse needed exceeded their resources, so she was turned over to the San Diego Humane Society and SPCA, and was cared for by County of San Diego Department of Animal Services until being brought out to the Horses of Tir Na Nog, which is in the community of Guatay, near Pine Valley.

When she was found, the Little Red Mare, as her handlers are now calling her, was blind in one eye and badly malnourished. Nothing can be done for her eye, but they are nursing her back to health.

"She is definitely recovering, but it is never rapid with horses," Rigney said. "We have to be sure not to give her a shock to the system by giving her a normal amount of food."

The Little Red Mare joins 26 other horses at the sanctuary, which has been in its current location for about six years. Rigney said the chestnut mare will be able to live out her days -- which, due to her advanced age, may not be that much longer -- at the sanctuary. The oldest horse at Tir Na Nog is 35, Rigney said.
Eric S. Page reports about all things San Diego, but he draws the line at cat stories. You can follow his updates at twitter.com/espage or send him a story idea.