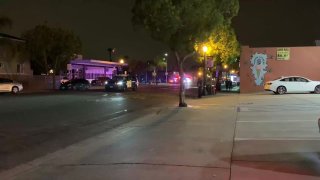 San Diego police are searching for the person or group of people who may have shot at a building in Normal Heights overnight and fled the scene after officers arrived, the department said.
The San Diego Police Department said it received a disturbing the peace call shortly after 1 a.m. Friday for loud music on the 3400 block of Adams Avenue. There was also a report that the individual or people responsible for the loud noise were using drugs and selling marijuana, according to SDPD.
Upon arriving at the scene, officers heard gunshots that may have been fired at a nearby apartment building. Police said those involved in the noise and shooting fled from the area and remain outstanding.
As officers investigated the area, they found an AR-15 rifle in a car near the scene and also found shell casings in the area. Authorities later learned that someone near the scene was robbed of a cellphone.
No injuries were immediately reported in connection to the shooting or robbery. A detailed description of those involved in the incident was not available.
At this time, SDPD is investigating the case as an armed robbery and shooting at a dwelling. The investigation is ongoing.