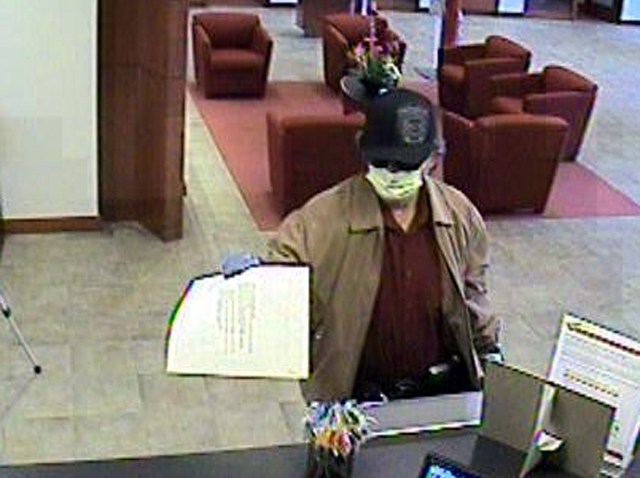 After the latest installment of San Diego's bizarre bank robberies, we're beginning to wonder if these guys all know each other.

Let me show you what I mean.

Swine Flu Bandit

The latest case involves a man, wearing a surgical mask with "H1N1" written across the front and plastic gloves. Apparently even crooks are freaked about the swine flu. Who knew?

The man walked to an island counter in the lobby of the Bank of America in Torrey Hills Friday morning and displayed a pistol in his waistband, FBI spokesperson Darrell Foxworth said.

He approached four tellers, handing each of them an envelope with a note demanding cash.

In addition to the mask and gloves, the man wore a black cap with gray or white letters on the front, sunglasses, a short black jacket, khaki pants. He was carrying a black briefcase.

If you know him, please call the FBI. (And then call us).

Poway Minivan Mom Bandit

A minivan driving Poway mother of five, two of them step kids, is sitting in a jail cell.

Roxanne Pennock, 37, is suspected of robbing at least four banks in Southern California, including two in North County.

Last Friday, Temecula Police spotted a red minivan traveling southbound on Interstate 15. The van matched the description of a vehicle used in a robbery at a Chase Bank on Temecula Road.

Officers pulled over the vehicle just south of state route 76. Pennock was driving and investigators said evidence linking her to the robbery was found inside the minivan.

"It was sort of a head smacker, we didn't predict that at all," said neighbor Thomas Leete. "We would never have suspected this."

Grandpa Bandit

Don't let the white hair or oxygen tank fool you.

A man, possibly in his 80s, is responsible for stickups at four banks in Rancho Santa Fe, Santee, La Jolla and Carmel Mountain Ranch, the FBI said.

Investigators say the man was carrying an oxygen tank during some of the robberies.

The bank robber is 60 to 70 years of age, with gray facial hair, according to the FBI, but to us he looks a lot closer to 80.

Maybe that's just what a life of crime can do to a guy.


Elderly Bank Bandit With Big Bills

An elderly man, who robbed a bank and said he had a bomb, told us from jail that he needed to pay off his mortgage.

"I had to get us out of this," Michael Casey Wilson, 69, said from the other side of the glass at San Diego central jail. "I've never done a bad thing in my life. But when you get desperate, I guess you throw all that sh-- out the window."

Wilson, 69, is accused of walking into a Bank of America in City Heights and handing a bank manager a demand note, saying he had a bomb.

Prosecutors said Wilson made off with $107,000 before he was caught lying on a front porch near the bank.

"I wrote them an apology. I am so sorry," he said referring to the employees who rushed out of the bank. "It's not my purpose in life to scare people."

He pleaded not guilty to three counts of robbery and one count of falsely reporting a bomb to a business.