A prized vehicle was damaged in a North Park garage fire early Monday.
Two people inside a North Park home were awakened by police officers knocking on their door about a fire burning in the garage.
"It's a crazy thing to wake up to," Scott Mitchell said.
He and his father were sleeping in their home at Felton and Nutmeg when a fire started in their garage.
Neighbors called 911 just before 5 a.m. because it had jumped to several trees.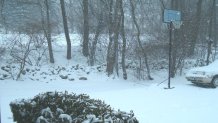 Officials said a vehicle parked inside the garage was heavily damaged but there was no damage to two-story house next to it.
Mitchell said it was his drift car that was destroyed in the fire.
"I did all the work on it myself in the garage," Mitchell said. "It looks like nothing on it will be salvageable."
San Diego Fire-Rescue Capt. Greg George said the close proximity of nearby homes posed a possible risk.
George said his crews had the fire under control within 15 minutes of dispatch.
Fire officials say the fire was accidental and estimated there was $50,000 in damage to contents within the garage and $50,000 in damage outside the garage.