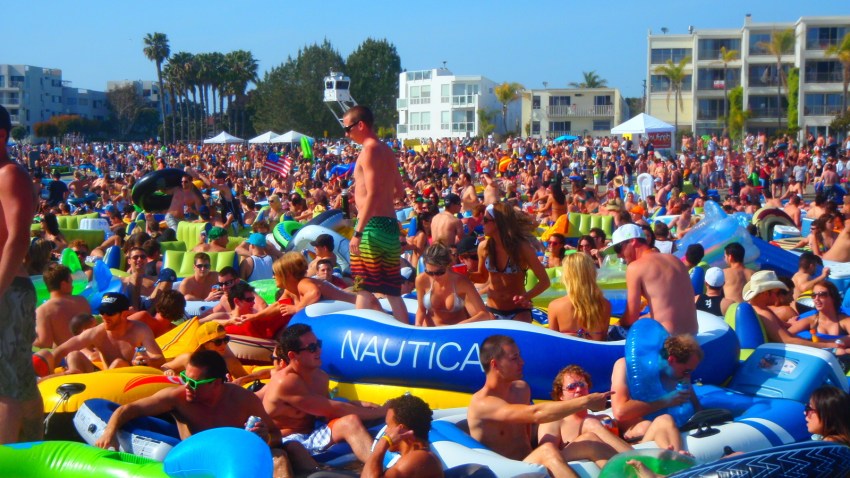 The days when thousands of revelers can drink alcoholic beverages while floating off San Diego's shores may be numbered.

City officials aimed a legal torpedo Wednesday at those so-called Floatopias that, for now, manage to legally get around San Diego's beachfront booze ban. The measure approved by City Council's Public Safety and Neighborhood Services Committee Wednesday could close a loophole in Proposition D, which city voters passed by a wide margin in November 2008 and banned alcohol consumption on San Diego's beaches.

The measure now moves to the full council, but even if the crackdown is fast-tracked and passed, it would not go into effect until late August at the earliest.

At issues is the fact that Prop D did not address the offshore areas where drinkers now congregate on flotation devices.

"In fact, if they had banned consumption of alcohol on the water, they would have rallied up the yacht clubs and boating groups to oppose Prop. D," said Floatopia supporter Rob Rynearson, who is the director of FreePB.org. "And they most likely would have changed the outcome of the election."

On four occasions since last summer, Floatopias have attracted crowds of several thousand revelers. There were dozens of water rescues, dozens of alcohol-related citations and arrests, and more than 2 tons of garbage was left behind after one event on a spring break Saturday. Public safety costs have run in to the tens of thousands of dollars.

Police and lifeguard officials are calling for the booze ban to be extended through Mission Bay and out 3 miles from San Diego's oceanfront.

There's growing council support for the measure.

"We've got the Fourth of July weekend coming up, summer season, lots of visitors -- and then these groups that are spreading the word through their social websites to come down and fill the water with people drinking all day.," Councilwoman Marti Emerald said. "I just think it's a formula for disaster."
Personal watercraft such as sailboats motorboats, rowboats and paddleboats would be exempted from the proposed ban.

For their part, organizers of the next Floatopia are circling the date of Saturday, July 17.