After an eight-month deployment and a crash involving one of its fighter jets, USS Carl Vinson returned Monday to San Diego, right on time for Valentine's Day.
Hundreds of sailors lined the perimeter of the flight deck in the late morning as the ship made its way through San Diego Bay to its berth at Naval Air Station North Island, and its arrival was accompanied by a military flyover.
The sailors coming home to Coronado received a warm welcome from their excited families. This comes after the crew completed its support of global maritime security operations, primarily in the Hawaiian Islands and the Indo-Pacific region, working alongside other military branches. The operation did not come without incidents, however.
"She's waiting to get off the ship, as everyone is, so we've been waving and texting and she's been blowing my phone up," Carrington Smaw said while waiting for his wife.
Jasmine Benabent couldn't wait to see her husband, but she had someone in her arms who was even more excited about the homecoming.
"Very emotional, I kinda had a breakdown earlier, so I think my tears are a little dried out right now, but we're super excited, there's just like so many emotions going through my head" She said. "He has not had a chance to hold or meet [their daughter], so this will be the very first time they meet, so we're super excited,"
An F-35C Lightning II crashed on the flight deck of USS Carl Vinson on Jan. 24 while the ship was in the South China Sea, according to the U.S. Navy. The pilot and six other sailors on board were injured.
USS Carl Vinson is the first aircraft carrier to deploy with a combination of fourth and fifth-generation platforms, including the F-35C Lightning II, which the Navy calls the world's "most advanced fighter jet."
The ship is the third Nimitz-class nuclear-powered aircraft carrier and its one of only 11 operational aircraft carriers in the Navy today. It carries more than 60 attack fighter jets, helicopters and other aircraft.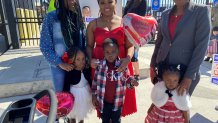 Roughly 3,000 men and women aboard the ship keep it running. An additional 2,000 sailors make up the air wing, which flies and maintains aircraft aboard the ship.
"The tireless dedication and professionalism of our Sailors, through a global pandemic, challenging operational tempo, and sacrificed time away from family, is truly humbling," Capt. P. Scott Miller, commanding officer of the ship, said in a statement. "Their efforts have demonstrated flexibility and resiliency and ensured mission success in every task. They have directly supported a free and open Indo-Pacific and have underscored our Navy's readiness, strength, and lethality."