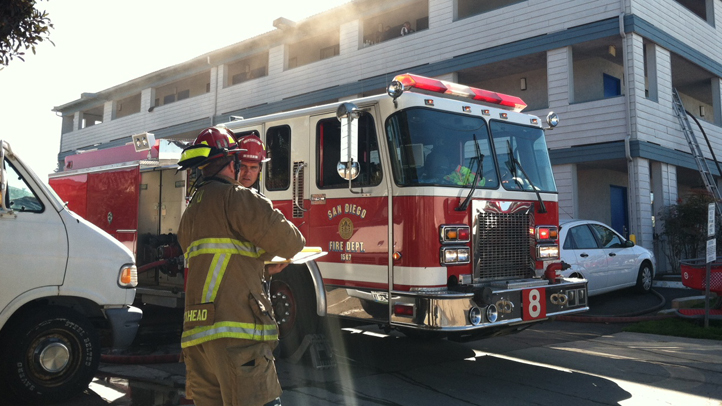 An explosion at The Heritage Inn in Midway that badly burned three people was the result of a narcotics disaster, authorities said.
The blast occurred at 11:15 a.m. Wednesday in one room of the hotel located at Channel Way and La Salle according to San Diego police.
Officials believe the explosion was drug-related and that the individuals inside were using the hotel room to concoct narcotics, said Police Captain Brian Goldberg.
The explosion was caused by ignited butane gas to make a certain type of marijuana oil, according to officials. The man inside the hotel room lit a cigarette while he was dealing with flammable substances.
Goldberg did not say whether those individuals will be arrested.
The victims had burns "all over their bodies," said San Diego fire department spokesperson Maurice Luque. The male victim has life threatening injuries, while the woman has severe burns.
Luque called the room where the explosion occurred a "drug lab," and firefighters said the entire wall was blown out. A hazmat team was also called to the scene to help in cleanup efforts.
The Drug Enforcement Administration said this is the first hash oil explosion they've seen in San Diego.
A woman staying in the three-story hotel told NBC 7 San Diego it felt like an earthquake and sounded like something slamming into the building.
The victims were taken into an ambulance to a nearby hospital. One person was taken to UCSD, according to a spokesperson for San Diego Fire Rescue.
One man who was badly burned from his head to feet kept asking a woman standing nearby to hold his hand, a hotel guest told NBC 7 San Diego.
An NBC 7 news crew arrived to the scene and immediately recorded video using the new application Vine. See the clip here.
The Heritage Inn is located south of I-8 off of Sports Arena Boulevard. The Ingraham Bridge, which leads into Midway, was shut down shortly after the explosion.
Check back for updates on this developing story.