An Escondido man was arrested in McFarland after officers found 22.5 pounds of Methamphetamine inside the spare tire in his vehicle.
Miguel Rodriguez, 42, was arrested Sunday around 10:13 p.m.
A McFarland police officer on routine patrol pulled Rodriguez over for a traffic stop. Police say the officer saw several open cans of beer inside the vehicle.
Police say a K-9 alerted officers to the spare tire during a search of the vehicle. Officers removed the tire and found 22.5 pounds of meth inside.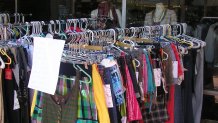 Rodriguez also appeared to have been driving under the influence of alcohol. He as arrested on suspicion of DUI.