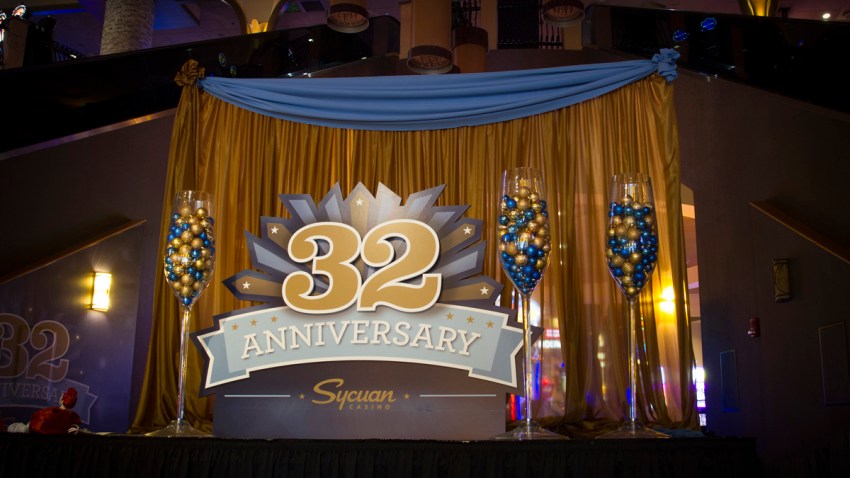 Sycuan Casino in San Diego's East County will celebrate its 32nd year in business Saturday with an all-day shindig featuring lots of freebies.
The 24-hour casino – located at 5485 Casino Way in El Cajon – will kick off the festivities at 8 a.m. with a T-shirt and coffee mug giveaway, followed by free cupcakes for all players at 10 a.m. At 5 p.m. the casino plans to host a $32,000 cash giveaway. At 6 p.m., the party culminates with a giant cake cutting ceremony featuring traditional Native American bird singers and dancers.
Throughout the day, casino patrons will also be treated to live music.
The Sycuan Band of the Kumeyaay Nation founded the business as a small "Bingo Palace" back in 1983.
The casino underwent a massive renovation in 2012 and today, Sycuan Casino boasts 2,000 reel and slot machines, more than 40 gaming tables and many restaurants, including the GameDay Sports Bar & Grill and Wachena café. A special non-smoking room inside the casino also features more than 350 slots and table games. Sycuan Casino also features a 457-seat entertainment venue that hosts national musical performers and comedians year-round.
The casino has been celebrating its 32nd anniversary the entire month of November, giving away a total of $500,000 over the course of the festivities. The Wachena café has also been offering a celebratory "Two for $32" special that includes a shrimp cocktail for two, salad and two steaks.