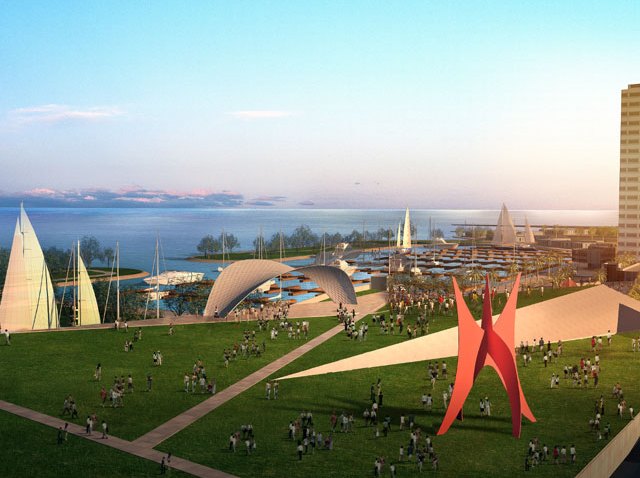 If you name the builder, the money will come. That seems to be the idea behind Tuesday's announcement of the design firm chosen to expand San Diego's Convention Center.
When the San Diego Convention Center Board of Directors revealed the design firm behind a proposed expansion Tuesday, they were met with a lot of questions asking about funding for the project estimated to cost $750 million at a time of city budget and service cuts.
Fentress, the same firm that designed the Denver International Airport, was selected from among five finalist architectural firms to design the proposed expansion.
As the details of the project were unveiled Tuesday - 225,000 square feet of exhibit space, 100,000 square feet of meeting rooms, an 80-thousand square foot ballroom, a 500-room hotel next to the area and a five-acre grass park on the roof – the discussion kept returning to money.
Convention center officials say Fentress' design should significantly reduce cost estimates because it calls for 38 percent less building mass and volume.
Selecting a design and architect is a key step to finding the financing officials said.
"If you don't get all the financing you can't build it," said Mayor Jerry Sanders. "You don't know if you can get all the financing if you don't know what it costs."
"You just can't go to a bank and say 'I'd like to build this office building can I please?' said Convention Center Board Chair Bob Nelson. "They're going to say 'Well, show us what you're going to do with that money. We want to make sure what we're putting our money on is worthy of the expense.' We're just going through the same process that others would have to."
Mayor Sanders said the project cannot use money from the general fund. He likened the financing to the "United Way campaign for the convention center" saying the hotel/motel, restaurant and port industries will have ability to pitch in and cover the costs.
"We have clients who already want the space," said Carol Wallace, President and CEO of the Convention Center who has already shown the proposed to design to clients.
Planners are in the process of beginning an environmental impact report. They expect by the end of 2011 to have documents in front of the Port Commission for consideration. Then, the plan would move on to the Coastal Commission for consideration in 2012.
The project could take 24 months to build. If all things follow the proposed timeline, the building could be completed by 2015.
Let us know what you think. Comment below, send us your thoughts via Twitter @nbcsandiego or add your comment to our Facebook page.