As Mexico City recovers from two powerful, deadly earthquakes within two weeks of each other, California residents would be wise to prepare for a similar quake, state and local officials say.
Tuesday's earthquake was the second in just 12 days in Mexico. The first was a magnitude 8.1 quake that struck southern Mexico and killed at least 90 people. The second hit central Mexico with a magnitude of 7.1, killing at least 230 people.
The U.S. Geological Survey considers a "Big One," an earthquake of magnitude 8.3 or above, extremely unlikely for the San Andreas Fault. The magnitude of an earthquake is related to the area of the fault on which it occurs, according to the USGS. The San Andreas Fault is 800 miles long and only about 10-12 miles deep.
However, quakes like the 1994 Northridge quake (6.7) and the 1989 Loma Prieta quake (6.9) killed dozens of people.
And experts now predict a 19 percent chance that a major quake of 7.0 or more will hit the south end of the San Andreas sometime in the next 30 years, according to NBC News. The chance of an 8.0-or-larger great quake in the same area is now predicted at 7 percent over the same time span.
In fact, there is a greater than 99 percent chance that a magnitude 6.7 or greater earthquake capable of causing extensive damage and loss of life will strike in California, according to the most recent Uniform California Earthquake Rupture Forecast.
Emergency management officials have increased the amount of water, food and other emergency supplies residents are suggested to store for emergencies.
Hundreds of thousands of people could be displaced in a big event, Aram Sahakian, general manager of the Los Angeles Emergency Management Department, told NBC News.
"The supply chain is going to be impacted, whether it is transportation, or medical supplies, or food. You need to be prepared to last at least five to seven days," Sahakian said.
Earlier this year, an analysis led by San Diego researchers suggested a powerful fault system that runs from San Diego to Los Angeles could produce a magnitude 7.3 to 7.4 earthquake if the segments rupture.
[NATL] Photos: Mexico Hit by Powerful Quake for 2nd Time in 2 Weeks
The study from Scripps Institution of Oceanography at the University of California, San Diego stated the Newport-Inglewood fault and the Rose Canyon fault are actually one continuous fault system which runs from the San Diego Bay to Seal Beach in Orange County, then on land through the Los Angeles Basin.
In the last 11,000 years, there have been three to five ruptures at the north end of the fault system. On the south end, which goes through San Diego, there is evidence a quake happened roughly 400 years ago, but there is little significant activity for the 5,000 years prior, according to the study.
"Further study is warranted to improve the current understanding of hazard and potential ground shaking posed to urban coastal areas from Tijuana to Los Angeles from the NIRC fault," the study concluded.
Surveys have shown that fewer than half of Californians have done enough to make their homes safer in advance of a big earthquake, NBC News reports.
Creating a disaster plan ahead of time is the most important to surviving a natural disaster, experts say.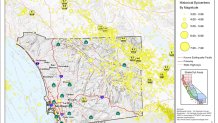 The California Office of Emergency Services suggests these 7 steps to earthquake safety:
Fix potential hazards
Create a disaster plan
Create a disaster supplies kits
Fix your building's potential weaknesses
During earthquakes and aftershocks: Drop, Cover, and Hold On
After the earthquake, check for injuries and damage
When safe, continue to follow your disaster plan
Take a look at shakeout areas for your community here and get more suggestions on what you can do in advance of a large earthquake here.
[gallery NATL-LA UPDATED 9/11] Photos: Powerful Quake Leaves Behind Destruction in Mexico