Two-year-old Hazel Altbaum may not have been on this earth long, but her sweet and vivacious personality and loving spirit won't be forgotten.
The Heroes for Hazel campaign helped raise money Sunday in the aim of raising more than $50,000 to get a childhood cancer research portfolio named after Hazel.
Dozens of people showed up in spandex and tank tops ready to get the job done. The boot camp at Ocean Air Park in Carmel Valley raised money for the Leukemia and Lymphoma Society. Instructors from Orangetheory Fitness motivated the participants to push their hardest – all in the name of knocking out cancer.
"Today we asked everybody to wear pink and purple, Hazel's favorite colors to honor her, and we have sprinkled music throughout the boot camp that were some of her favorite songs," Heroes for Hazel supporter Christina Tolpa told NBC 7.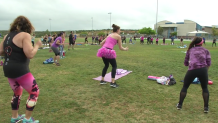 Tolpa said the workout would finish with bubbles – something Hazel loved.
Hazel was diagnosed with Acute Myeloid Leukemia, a rare form of cancer in 2015.