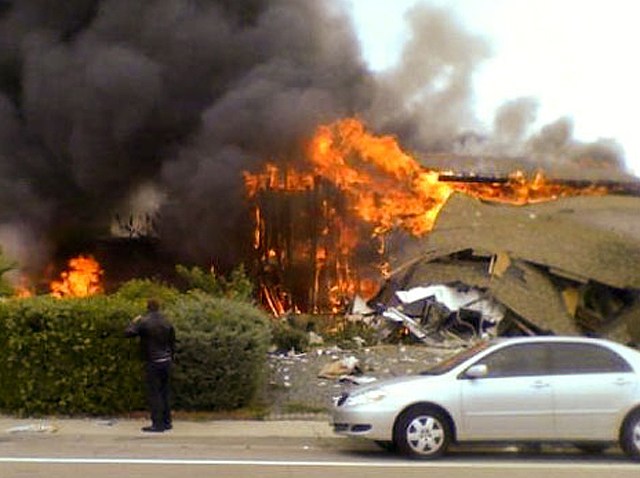 One year ago, a military jet fell out of the sky and killed a family in University City.

Two houses were destroyed, three others damaged and, worst of all, one man lost four family members when the FA-18-D Hornet headed to Marine Corps Air Station Miramar crashed after its engine died.

The site where the Yoon family home once stood is still an empty lot, as is the lot next door. A person who once lived there said she visits the site at least once a week. Tuesday's visit was especially painful for Sunny Zhuang-Woo.

"I come back very often at least once a week because I miss my home so much," Sunny said.

Sunny and her family were not home at the time, but Don Yoon's wife, two young daughters and mother-in-law were all killed in the crash.

Sunny and a friend whom she met after the crash had lunch together on Tuesday, trying to do something special to mark the anniversary.

"Very sad -- even one year after, still an empty lot here," Sunny said. "That is not what we expected."

"I just try to find out what small things will help, and I helped her unpack," said Sunny's friend, Marty Ornish. "It's a small thing, but the nice thing is I have a great friend now. So there's good things from the bad, I have new friends I wouldn't have had."

Sunny said she had hoped she and her family would be back in a new home by Christmas, but delays in settling with the insurance company have held up a settlement with the military. She said the process has been very frustrating.

"Why don't they just build a house and let me move in?" Sunny wondered. "Why do we have to do that? Everyday I ask myself: Why do we have to suffer like that? No one helps, but no one can tell me why."

"I don't think any one has a clue, to know what it is like to lose your house and neighborhood they loved and have so little support -- so they've gotten community support, but they have not gotten what they need from the military," Ornish said.

No one from MCAS Miramar was available for an on-camera comment on Tuesday, but Miramar did issue a statement outlining changes made as a result of lessons learned from the mishap:

"Following last year's tragic F/A-18 mishap, we reviewed every in-flight emergency procedure. With the lessons learned from the mishap, our commanding general instituted a new quarterly training regimen using realistic emergency scenarios to ensure our procedures are as safe as possible. We also made numerous improvements to our F/A-18 maintenance policies, enhancing the readiness and reliability of our aircraft. As always, our main priority is safety and we work diligently everyday to minimize the inherent risk of our job."


Yoon's attorney said Monday that while his client is very grateful for the support he has received from the community during the last year, Yoon is still very much in the grieving process.

Since the crash, the jet's pilot, Lt. Dan Neubauer, who parachuted to safety before the aircraft exploded in a fireball, has been promoted to captain, according to the San Diego Union-Tribune.