The search for a California couple missing since a trip to a casino on Mother's Day trudged on Saturday, with a private investigator pursuing a theory that the couple may have been in a car accident.
Fullerton, Calif., residents Cecil "Paul" Knutson, 79 and Dianna Bedwell, 67, were last seen leaving Valley View Casino in north San Diego on May 10 at around 2 p.m. in their white 2014 Hyundai Sonata.
They have not been heard from in nearly two weeks, despite several searches by family members and officials and an investigation by the San Diego County Sheriff's Department.
Now, the couple's family has hired Bill Garcia, a private investigator to work on the case.
Garcia said he believes the couple may have been involved in a car accident and their wreckage wound up in an area that's difficult to see or access.
"I believe it's likely a case that they may have gone off the road," Garcia said.
On Saturday, Garcia and a local volunteer continued searching for the couple amid the rough terrain in the Valley Center area near State Route 76 leading to Valley View and Pala casinos.
Though the task has proven difficult, it's one that Garcia is willing to undertake.
"There are things that the common person wouldn't know to look for, that we do," he explained. "At this time of the year the undergrowth has a lot of rebound so a vehicle could go right into a bush and you'll never know it's there."
At this point, the search may seem futile to some, but Garcia believes it must continue.
"The bottom line is, these folks need to be found and brought home, and that's what I'm trying to help the family do," he said.
Son Pleads for Return of Missing Parents
According to sheriff's department investigators, the couple's last cellphone signal was recorded 10 miles away from Valley View Casino near the Interstate 15 on-ramp and Deer Springs Road on the day they disappeared.
Images captured on a surveillance camera showed the couple leaving the casino just before 2 p.m. on May 10.
After their day trip to the casino the couple was supposed to travel to their son's home in La Quinta to celebrate Mother's Day.
When hours passed and they did not arrive, their son, Robert Acosta, called the authorities.
Knutson and Bedwell are both diabetic and dependent on insulin. Their vehicle has the California license plate 7EHE981.
Anyone with information on the couple's whereabouts is urged to call the San Diego County Sheriff's Department at (858) 565-5200.
Earlier this week, volunteers with Team Amber Rescue said their group had walked and driven various routes in search of the couple, scouring everywhere between Indio and Borrego to no avail.
The volunteers said they hoped to get wall-sized maps so they could begin targeting even more search areas.
"They Could Be Anywhere": Volunteers Plan to Search for Missing Couple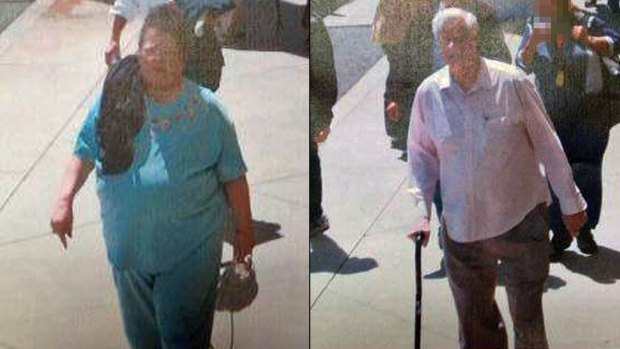 Meanwhile, Jan Caldwell with the San Diego County Sheriff's Department said the Search and Rescue (SAR) team from the Riverside County Sheriff's Department searched areas this week
where officials believe the missing couple could have crashed.
"Although it was a very thorough search, it yielded no results. We also spent time in San Diego County search - again, to no avail," Caldwell told NBC 7. "It's an odd [case] – no doubt."