A man who has a tattoo on his right arm that reads "Demon" has been fou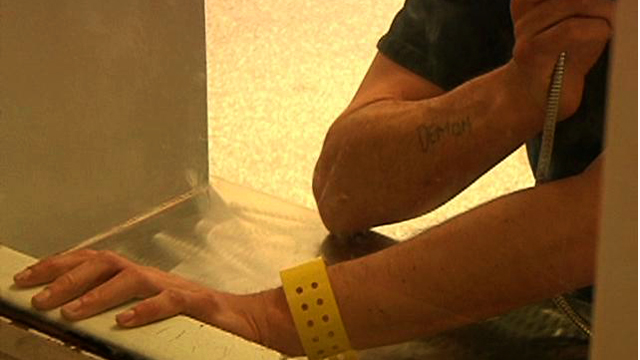 nd guilty in the stabbing death of a Northern California woman in an Oceanside shopping center parking lot.
Katherine Parker, 54, was stabbed in April 2009 in the parking lot outside a Hallmark store in the 2400 Block of Vista Way in Oceanside.
A jury found Eric Andreasen, 37, guilty of first-degree murder.
Andreasen pleaded not guilty by reason of insanity. The insanity phase of the trial starts on Monday.
Parker was visiting from Lincoln in Northern California with her family. She was coming out of the store where she had purchased gifts for her grandchildren. Her husband was not with her at the time.
"He cut her across the stomach, he cut her across the neck, and he cut her mouth and up," said one witness.
Witnesses told police that Andreasen stabbed Parker, threw the knife, then sat down and waited for police to arrive.
The victim was airlifted to Scripps La Jolla Hospital with critical injuries where she later died.
Court documents list a lengthy criminal record for Andreasen, a sex offender who also has a history of psychiatric treatment and had been prescribed medications used to treat schizophrenia and bipolar disorder.
In a jailhouse interview with NBC San Diego in 2009, Andreasen told a reporter he did not know the victim and did not "exactly" regret the killing.